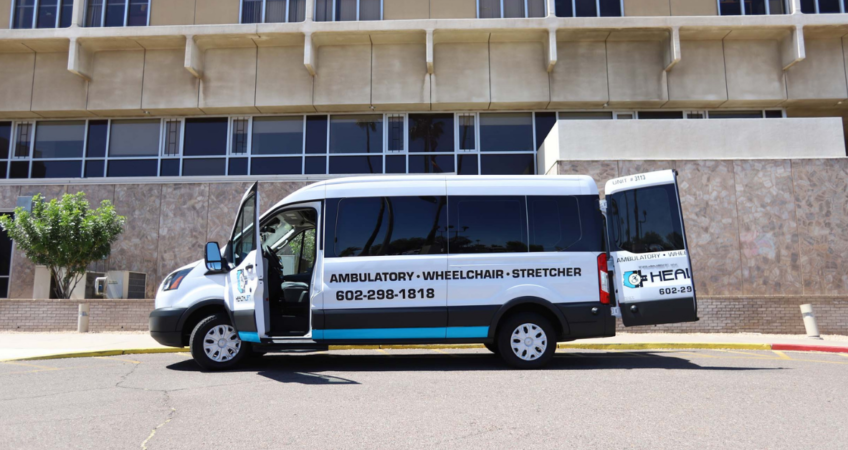 Medical Transportation in Phoenix and Tucson
HealthLift is dedicated to providing our partners and passengers with the best transportation experience possible. Whether up for a hospital discharge, or going in for a medical appointment, we understand the challenges that come with arranging medical transportation and take complete care to meet every patient's individual needs.
We pride ourselves in providing the most reliable transportation and accessible transportation in Arizona. Our team is trained and certified to execute standard protocol and procedures. Our vehicles are equipped to accommodate various mobility aids, as well as short and long distances. 
Whether standard, electric, scooter type, or bariatric, our vehicles were built to fit all kinds of wheelchairs comfortably.
We have the industry's leading, high quality stretchers which can accommodate both standard and bariatric-sized passengers. Read more here.
Our vehicles are equipped with heavy-duty wheelchair lifts and can fit wheelchairs that are up to 34 inches wide. Find out more about this here.
Out-of-state appointments can be met without any worries since our vehicles are fitted with all the necessary equipment in order to make long-distance travel safe and comfortable.
Transportation Solutions With HealthLift
We work closely with medical care professionals, from pickup to drop off, in handling non-emergency medical transportation with proper care and attention. Booking a ride with us is clear, quick, and easy through our online booking system and communicating with our drivers throughout the process is a sure given.
Sign Up for a Free Account & Book With HealthLift NEMT of AZ
When it comes to safety, reliability, and expert care, your best bet for non-emergency medical transportation in Arizona is with us.
We're passionate about providing excellent service to the people that need it most and want to continue to work with medical care professionals in order to achieve that.
Sign up for an account today.