Users of Wheelchairs in Arizona Need Accessible Transport Options
Patients all around Arizona, especially those in a wheelchair or those with special needs, have regular medical requirements that must be met. It's no small wonder that transportation becomes a pressing concern for many. It can be a problem, however, to get to appointments when transportation becomes less than available, specifically one that can accommodate those in wheelchairs (or stretchers).
Why Transportation is Important
Many wheelchair users or those with mobility challenges desire that sense of independence in their daily lives, especially when they have to get to their medical appointments.
Wheelchair-friendly transportation provides them that sense of freedom, giving them a better quality of life.
With reliable non-emergency medical transportation (NEMT), patients will no longer have to rely on loved ones and caregivers to give them rides to medical appointments. It will be easier for them to meet their regular health needs independently, being able to simply call in to book, or even book and track multiple rides online.
The Options for Transportation
It's great to have a loved one drive wheelchair users around when they need to get to their medical visits, but this may not always be possible due to unavailability. Buses and other forms of public transport have also taken measures to be more accessible but they're not always able to accommodate every passenger's need and you're out of luck if there is not enough room.
Private wheelchair-accessible vehicles are definitely the best bet for many out there, most especially those who find it difficult to get the transportation choices that they need on demand.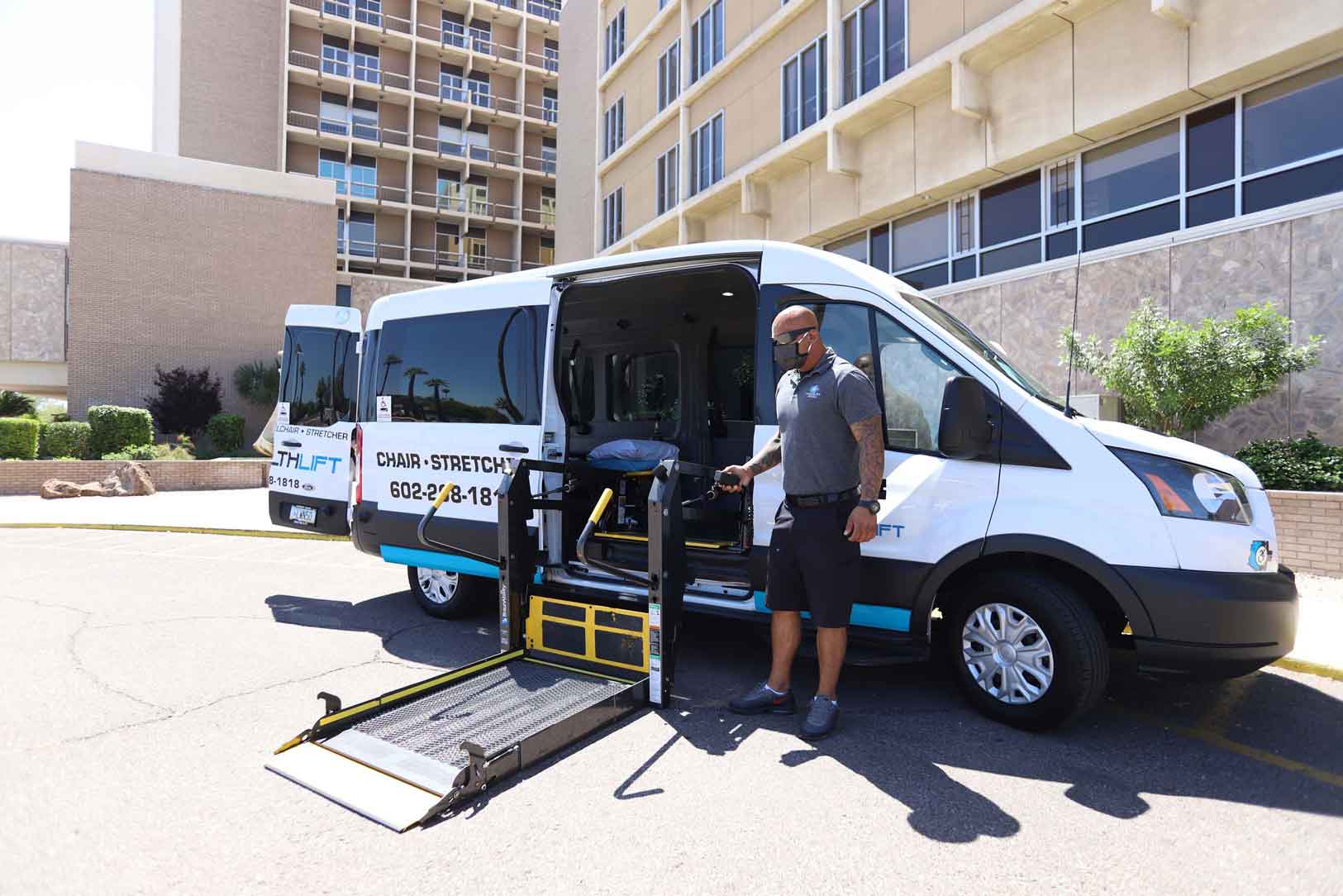 Medical Transportation in Phoenix and Tucson
HealthLift NEMT of AZ makes Phoenix and Tucson more accessible cities to live in for those who need the extra help and care when getting to their destinations. We provide accessible transportation for those using standard, motorized, and bariatric wheelchairs, while also making it easy to book rides using our online booking tool for those who sign up. Transportation for out-of-state medical appointments are also available. 
Need Oxygen? HealthLift can supply oxygen upon request (must be administered by a caregiver).
Now, patients can get to their appointments and procedures comfortably inside one of HealthLift's ADA-compliant vehicles, with drivers that are trained and certified to make sure that every ride is safe, smooth, and fully sanitized.
Booking With HealthLift
Ensure that you get to/from the hospital safely. Sign up for a HealthLift account so you can book a ride with us whenever you need a safe and comfortable ride to hospitals and medical offices (or any destination). Get to your appointments and procedures on time with HealthLift NEMT of AZ.
We provide quality services, trusted by many well-recognized hospitals in Phoenix and Tucson. We even provide long-distance rides for those with appointments out of state. With AZ's safest drivers and our commitment to providing quality non-emergency transportation during the COVID-19 pandemic, you can always rely on HealthLift for your accessible transportation needs.
Sign up for a HealthLift account and book with us. Contact us for free ride estimates and more
HealthLift's new A.D.A. compliant vehicles are equipped with bariatric and standard wheelchairs and stretchers.
Learn more about our services here: