Four Benefits of Arranging Wheelchair Accessible Transportation In Arizona
Why You Should Book Wheelchair Transportation for Yourself or Loved Ones
There are plenty of benefits that one can think of when hiring wheelchair-accessible vehicles in Arizona which are definitely essential for plenty of wheelchair patients out there. That said, many are still unsure whether or not they should hire vehicles to get them to their appointments and such.
More Independence
Adults and Seniors using wheelchairs could take a burden off their families, allowing them the opportunities to go anywhere as they please, anytime. Accessible transportation provides them the mobility and freedom that many take for granted. Booking with HealthLift for wheelchair accessible transportation makes it easy. Sign up for a free HealthLift account to easily book & track accessible rides in the Metro Tucson & Phoenix, Arizona.
Recurring Appointments and Essential Trips
Arrange multiple trips for your regular appointments or scheduled pickups of essentials. HealthLift provides real-time booking tools and apps to keep track and manage rides at your own pace. Book all of your future rides according to scheduled appointments online or call (602)/(520) 298-1818. Trust that our drivers will get you to your appointments on time.
Specially Certified and Trained Drivers
Trust drivers that are well-trained and certified to provide safe transportation. They should know the rules of the road and how to drive their vehicles safely.
HealthLift drivers are required to pass drug screenings: pre-employment, random, incident, accident. They are also specially trained, CPR Certified, Defensive Driving Certified, Hospice Sensitivity Certified, PASS Certified, Drug Tested and Background Checked.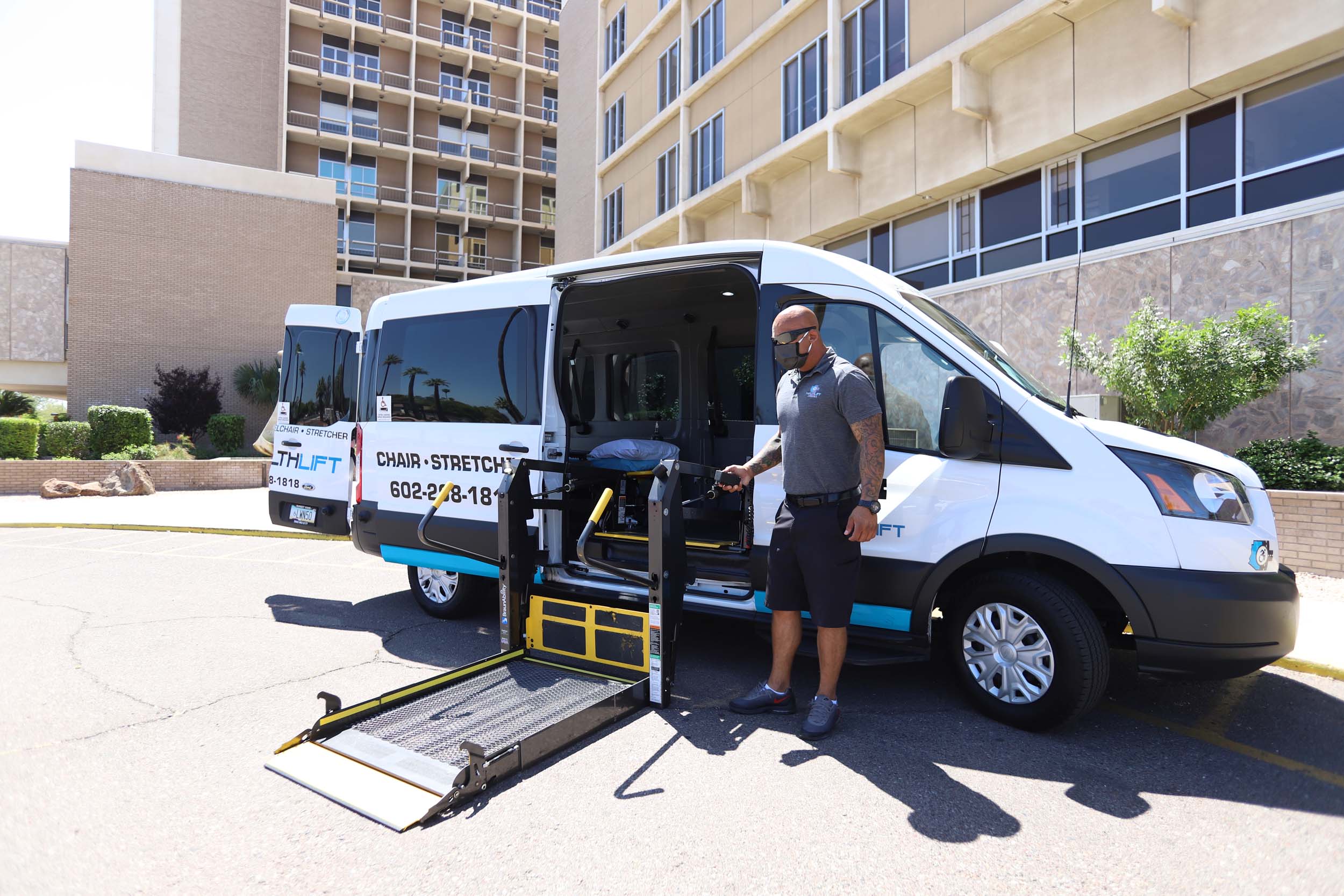 Easier Long Distance Transportation
Many wheelchair users need a means to travel long distances, even out-of-state. There are individuals that are not advised to fly due to medical reasons and instead require long-distance transportation via land travel. They may have conditions such as chronic obstructive pulmonary disease, have suffered from strokes in the past, and have infectious diseases, among others. Flying may not be an option as advised by their medical teams, and this is where long-distance Non-Emergency Medical Transportation (NEMT) comes useful.
When the situation calls for it, arrange wheelchair accessible transportation with HealthLift for yourself or loved ones that need to travel out-of-state. There's no reason to make compromises at the expense of comfort and safety. Go with a company trusted by Arizona hospitals and medical facilities.
HealthLift NEMT of AZ Provides Wheelchair-Accessible Vehicles in Arizona
HealthLift has a fleet of ADA-compliant vehicles ready to serve wheelchair patients who need to get to appointments, treatments, procedures, and more. We take the necessary safety measures and precautions for every ride.
Book and track rides online with HealthLift NEMT of AZ now.
Our COVID-19 Response
With the increased risk of the COVID-19 pandemic, we've raised our standards in safety and sanitation. We understand the need for individuals to get to their medical appointments, testing, and procedure. We're also certified in transporting COVID-19 positive patients to ensure that they get the care they need.
We're trusted by hospitals and medical offices to provide safe and reliable rides in Phoenix and Tucson. Our commitment to providing Arizona with the safest NEMT is what we assure our customers.
Sign Up for a HealthLift Account
Sign up with HealthLift of AZ to book and track rides online. Trust us with wheelchair transportation.
HealthLift's new A.D.A. compliant vehicles are equipped with bariatric and standard wheelchairs and stretchers.
Learn more about our services here: