When you are caring for a wheelchair user as a family caregiver, helpful tools can make all the difference. Caregivers can benefit from many available resources like transportation (NEMT), mobile apps help organize activities or appointments, and more.
1. Caregiver Apps
There are many user-friendly and FREE mobile apps that help caregivers stay organized which are available for iOS (iPhone/iPad), on Android and also on a website.
They have the ability to synchronize across devices — meaning you can make a change on your phone or tablet and it will automatically appear on your computer, or vice versa. 
Using features such as calendars, reminders, and other tools, caregivers can stay on top of daily tasks, medications and more.
Medications — Create a medication list by simply taking photos of the medication labels; set up medication reminders.
Trackers — Log and track health information such as weight, mood, sleep, pain, blood pressure and blood glucose.
Journal — Record significant events, health issues, doctor appointments and more.
Contacts — Import contacts for doctors, care providers and team members from your phone contacts, or create new contacts in the app or online. Share them with team members.
Photos and files — Add photos and document files such as doctor lists, copies of insurance cards or advanced directives.
Sharing — Invite others to share access to facilitate team coordination or in an emergency.
Source: AARP
2. Accessible Transportation Services
Safe and reliable transportation is necessary for getting patients to their regular medical checkups, testing and procedures- along with leisurely activities. As a caregiver, it is necessary to arrange Non-Emergency Medical Transportation (NEMT) ahead of time to ensure medical appointments are not missed. 
When Arizona caregivers are looking to book wheelchair or stretcher accessible rides in Phoenix or Tucson they choose HealthLift NEMT of AZ. Wheelchairs, stretchers and oxygen (must be administered by caregiver) are available for passenger use. HealthLift drivers are held to the highest standards being certified and specially trained. 
Sign up for a FREE HealthLift Account to easily manage multiple wheelchair/stretcher accessible rides.
Features:
Book Multiple Rides 24/7

Track Rides

Make Payments

More!
HealthLift is
Arizona's #1 Choice for
Accessible NEMT Services
3. Wheelchair Accessible Events in Arizona
Arizona is home to many destinations that are wheelchair accessible and fun for all. From aquariums to museums, and even caverns- there are plenty of options for leisure that are inclusive and accessible to wheelchair users. 
Keeping up with upcoming accessible events and activities will provide you with options for wheelchair users, when it's time for some fun. Visit Arizona has a great compilation of the State's best accessible attractions.
Sign Up and Book With HealthLift
Caregivers find it more convenient to book accessible rides with HealthLift for wheelchair-accessible, ADA-compliant transportation. Whether booking for medical reasons or for a fun activity, HealthLift is Arizona's choice in quality accessible NEMT. 
If you don't have a HealthLift account, sign up here.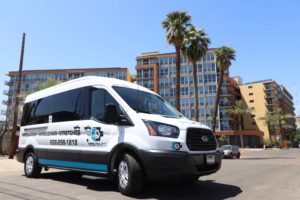 HealthLift's new A.D.A. compliant vehicles are equipped with bariatric and standard wheelchairs and stretchers.
Learn more about our services here: