Ways to Make Caregiving a Little Easier
Being a caregiver can be very demanding, especially when the person you are caring for has mobility issues. Want to make it easier when taking care of ones that use mobility devices like walkers or wheelchairs? You'll be glad to know that there are numerous resources available that can ease your load and better prepare you to provide the best care.
Improve Home Accessibility
Transporting wheelchair users around or in/out of the house can be an ordeal for many. Fortunately, ramps, rails, adjustable beds, hoyer lifts, and stair climbers installed in homes can assist caregivers and provide more independence for wheelchair users.
These tools can significantly decrease the physical demand on caregivers, reducing risk of injury for both caregiver and patient.
Caregiver Support Groups
Sometimes, being a caregiver can be mentally and emotionally strenuous, on top of the physical efforts needed. You can find support groups for caregivers or those who are taking care of family members in a wheelchair. Connect with others in similar situations, and learn the different ways caregivers can cope with adversity and specific challenges. You are not alone.
Here are a couple of caregiver support groups in Arizona (In-Person & Virtual):
Wheelchair Accessories
Even simple wheelchair accessories such as cushions and trays help change the way you take care of your loved ones, even in the smallest of ways. Most of these accessories either aid you in administering to their needs or allow them to live more independently.
Safety Training Programs
There are many different training programs for families, caregivers of people with disabilities and the like. These programs often offer consults for fit of wheelchairs, inspection, brake usage, and other topics related to better management of care. 
The DDS Safe Transportation Training shows how to safely load and unload passengers into vehicles and how to properly tie-down wheelchairs and secure vehicle shoulder straps. Training also discusses what to do after someone in a wheelchair experiences a fall.
Wheelchair Accessible Ride Service
The most liberating resource for wheelchair users, their families (and even their medical providers) is access to transportation that caters to people with disabilities.
Caregivers are able to easily arrange transportation to medical appointments, the grocery store, or any destination. When no one is available to provide a ride that can accommodate wheelchair-no worries- it's easy to reserve a ride!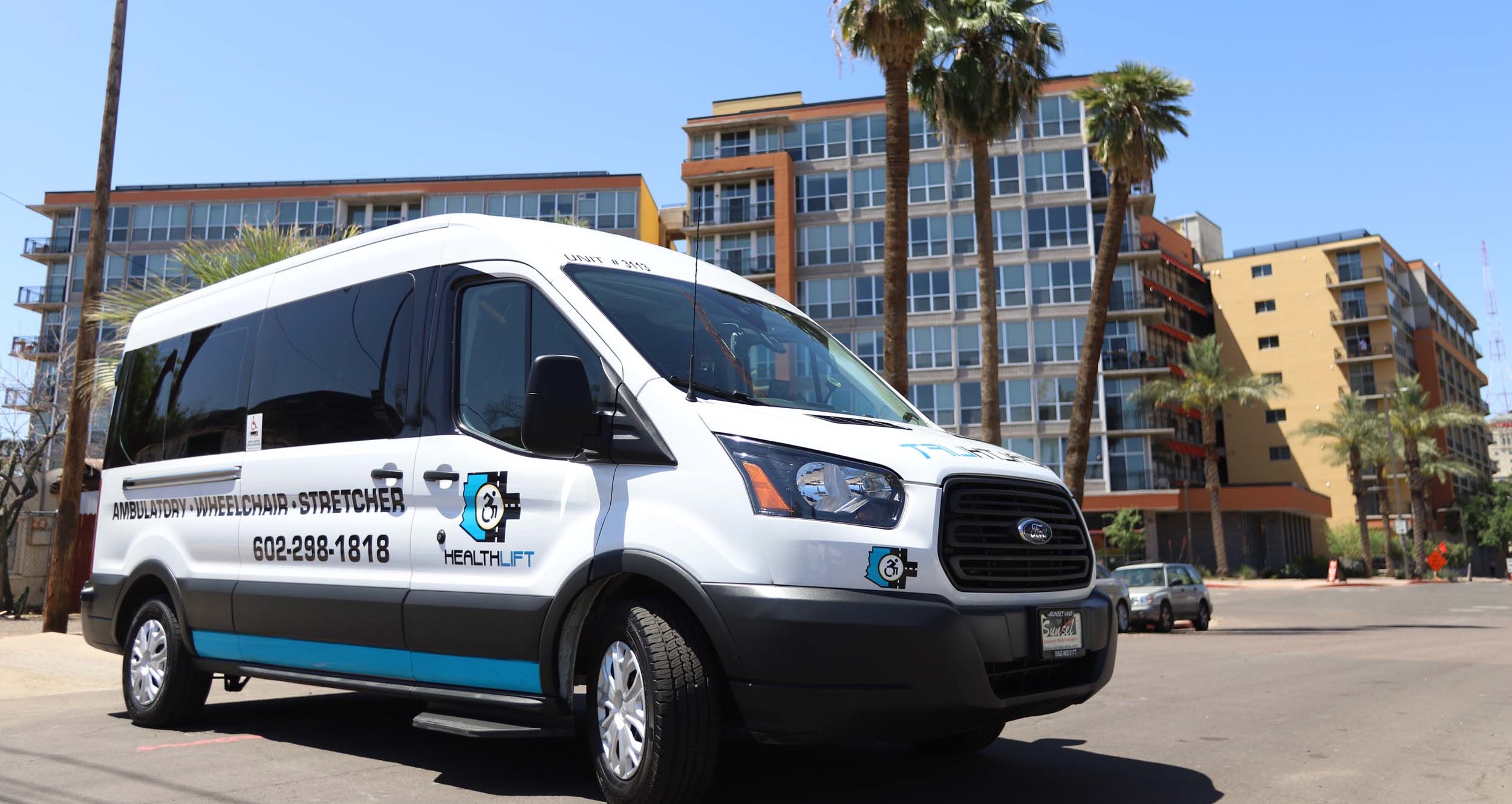 Arizona trusts HealthLift for wheelchair accessible vehicles and certified drivers. Book 24/7 by calling or sign up for a FREE HealthLift Account to book and manage rides online with ease.
Patients, their families and medical providers benefit from a HealthLift Account.
Book, Pay, Track and Edit Multiple Rides Online. Any Distance, even Out-of-State!
Wheelchair & oxygen available for passenger use.
HealthLift Serves AZ's Patients' & Caregivers' Needs
People with disabilities that utilize wheelchairs have regular health needs that they have to meet with doctor appointments, along with the need to get out and around freely for fun and leisure. HealthLift is great for getting around town, and specializes as Arizona's #1 Non-Emergency Medical Transportation (NEMT) service provider, serving Metro Phoenix, Tucson and the surrounding areas. 
We provide individuals who use wheelchairs with reliable rides in ADA-compliant vehicles, spacious enough to fit wheelchairs of all sizes. With our state-of-the-art vans and courteous drivers, you'll find that HealthLift is the perfect choice for you.
Sign up now to book a ride with HealthLift.