Providing the Senior Community With Reliable Transportation
Reliable transportation is something we often take for granted. As we mature, this becomes increasingly more important and equally as challenging. For the senior community, it's vital to have a transportation service that caters to their needs. 
Residents of long-term care and assisted living facilities benefit from partnering with a trusted service for the senior community so that particular needs can be guaranteed and met when necessary.
Assisted Living Centers in AZ
Arizona is rapidly becoming a popular choice for retirees. Nearly 36% of residents in the state are age 50 or older, which equates to more than 2.5 million people.
Arizona is home to just over 200 independent living communities. These centers usually have vans that take residents wherever they need to go, but these excursions are limited by their availability.
Arranging Special Trips
It's important to consider how residents can arrange transportation for themselves. Rides for leisure activities, regular medical appointments, or for whatever reason, are not always possible due to the ratio of residents to service vehicles. Accessibility is another cause for concern, as not all service vehicles are equipped with the necessary fittings and requirements to accommodate certain mobility needs.
How HealthLift Works With Long-Term Care Facilities
HealthLift provides transportation for people living in assisted living facilities in Arizona who want to get around the state and need reliable transportation. For whatever reason they need professional and private rides, HealthLift can meet the needs of the senior community.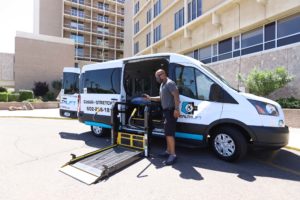 HealthLift also helps residents of nursing homes get to out-of-state appointments with long-distance transportation.
Sign Up for the Most Trusted Rides in Phoenix and Tucson
Our top-of-the-line vehicles are fitted with industry-leading lifts and high-quality stretchers (standard and bariatric). Our team of drivers are trained and certified to assist passengers and ensure that they get a safe and comfortable ride in and out of Arizona.