Initiatives on Accessibility and the Rights of Those with Special Needs
Arizona pushes forward as a progressive place for those utilizing wheelchairs and mobility aids, particularly in the Metro Phoenix and Tucson areas. As Arizona's wheelchair-user community includes many individuals, there are many useful resources available that help with everyday needs. These resources serve to make the lives of our community members with disabilities better by making access to medical needs, employment, and leisure more accessible to everyone.
Arizona Rehabilitation Services Administration (RSA) assists individuals who have disabilities to overcome barriers to employment and become as economically independent as possible.
This government program operates under the Arizona State Department of Economic Security, dedicated to assisting Arizona residents who live with disabilities. The agency helps the population have and maintain gainful employment, increasing their independence and making their lives more rewarding as a result. Older adults and the blind and people with disabilities may benefit from their numerous dedicated programs.
Arizona Statewide Independent Living Council (AZSILC) promotes resources, supports, and services which empower people who have disabilities to live independently.
At the Arizona SILC, they help wheelchair users and those with special needs live a more independent lifestyle, promoting services in the area that cater to them and protecting their rights. Their advocacy initiatives include the Arizona Disability Coalition (ADC) whose mission is to advance the rights and choices of people with disabilities through community efforts. Another is their Arizona Education and Empowerment initiative (AZEEI) which is a free six-week course that is designed to engage individuals with disabilities in their communities.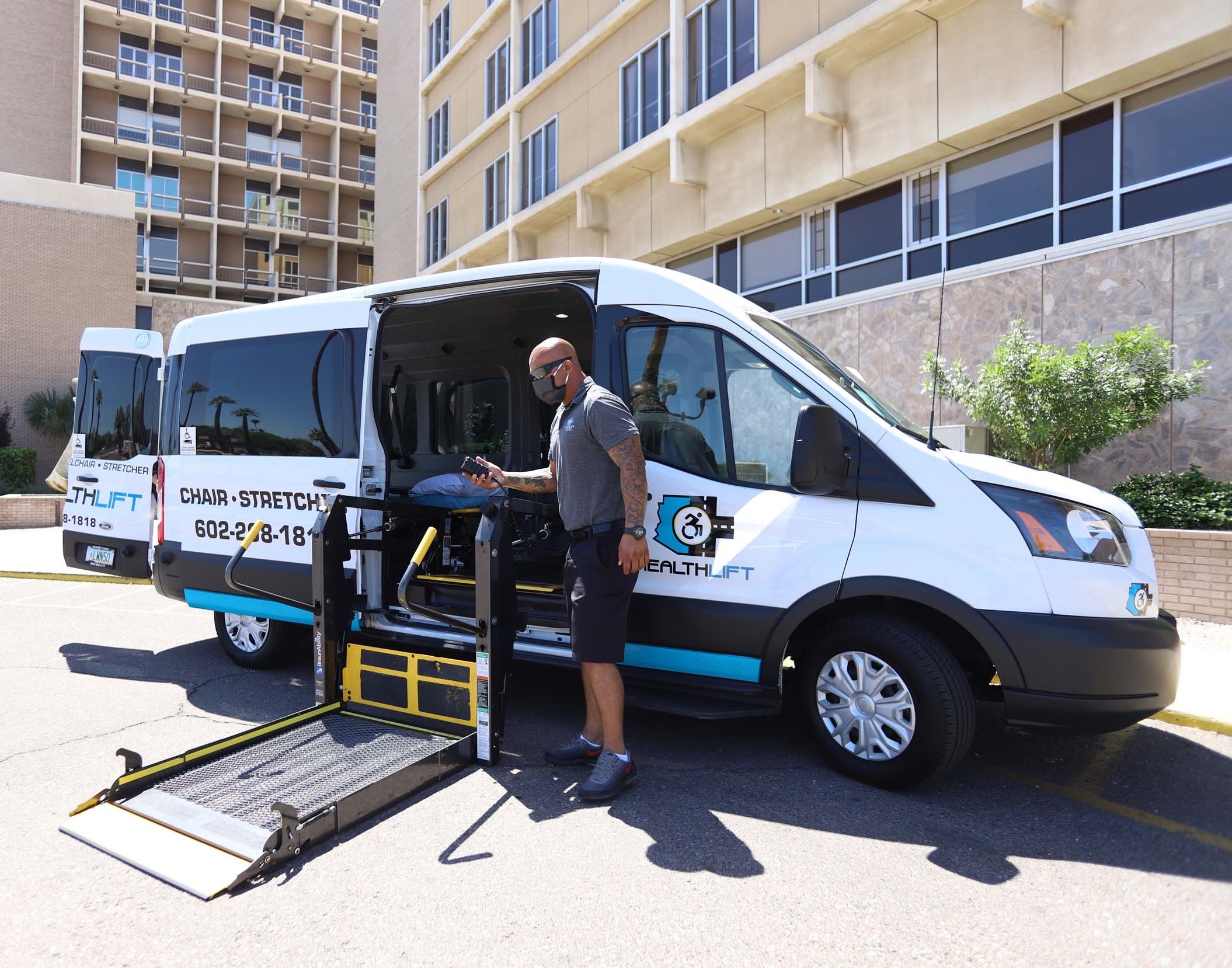 Wheelchair-Accessible Transportation in Arizona
Transportation is an essential resource for wheelchair users who want to get to their appointments and procedures, travel to and from the airport, or simply explore Arizona Destinations. Family and loved ones may not always be available to take them to their destination and appointments. So, when schedules don't match up and wheelchair users need to get somewhere, having accessible transportation options at-hand, like HealthLift NEMT of AZ, provides individuals with a means to get to where they need to be.
Making AZ's Wheelchair Community's Lives Easier With HealthLift
HealthLift NEMT of AZ is committed to bringing the people of Metro Phoenix and Tucson area wheelchair-accessible transportation. Simply call or book online (Account required for Booking Online).
Their raised COVID measures make for stress-free traveling in the current health crisis. With spacious accessible vans that cater to people utilizing wheelchairs of all sizes (also stretchers) and specially trained drivers that prioritize safety above all, HealthLift is trusted by the Arizona community to get passengers to their destination safely and on time.
Sign up for a free HealthLift Account to book and track your HealthLift rides with ease online. Contact us for free ride estimates.
Sign Up for a HealthLift Account
Sign up with HealthLift of AZ to book and track rides online. Trust us with wheelchair transportation.
HealthLift's new A.D.A. compliant vehicles are equipped with bariatric and standard wheelchairs and stretchers.
Learn more about our services here: