Arizona Airport Tips: Traveling as a Wheelchair User
PHX and TUS Airport Accessibility
---
Being a wheelchair user has plenty of challenges, especially when it comes to traveling. It's good to know, however, that airports have plenty to offer when it comes to accessibility. If you're traveling with someone utilizing mobility aids, then here are a few factors you need to consider when traveling through Arizona's major airports.
---
Phoenix Sky Harbor
As one of the country's busiest airports, Phoenix Sky Harbor has a multitude of facilities that allow for accessibility among people in wheelchairs.
Restrooms – The airport is filled with handicapped-accessible restrooms with large stalls. Each terminal has at least one family restroom with caregiver access and a private area to change clothing or disposable undergarments.
Dining – It's a good idea to let the restaurant know beforehand that you're dining with a family member who's a wheelchair patient. They will be able to accommodate accordingly.
Medical and Emergency Supplies – There are times that you may run into trouble so it's always a good idea to make use of medical supplies at the airport whenever you need them. Fortunately, there are stores around the airport that provide medical supplies.
Airport Sensory Room – Sky Harbor also offers a place for children or adults with an intellectual or developmental disability to visit for a respite from the sensory-overload that they might experience when coming to the airport. It's located inside the airport chapel, pre-security near the B Checkpoint in Terminal 4. Operation hours are 8 AM–8 PM from Sunday to Friday. Hours on Saturday are 8 AM–4 PM.
Tucson International Airport 
Similar to Phoenix Sky Harbor, Tucson International Airport also hosts plenty of wheelchair-accessible facilities for the needs of your family members.
Restrooms – All restrooms at TUS contain at least one larger stall with grab bars for individuals with accessibility needs. Aside from that, similar to those at Sky Harbor, there are also spacious Family Restrooms that can accommodate those who need them.
Wheelchair Service – Passengers at TUS may also request wheelchair assistance at the airport itself, provided by their airline. It's important to take note, however, that only Southwest Airlines has skycaps for curbside bag check for customers with accessibility needs.
Moving Walkways – These are common in most airports and patients in wheelchairs can easily take advantage of moving walkways to get them to their destination. 
Book With HealthLift for Accessible Transportation
Whether you need to book a ride to or from the airport or via the open road out of state, HealthLift gives you multiple ways to do so. Sign up for a free account to book & track online and make sure that you book with HealthLift for the safest and smoothest NEMT, granting you convenience throughout the way.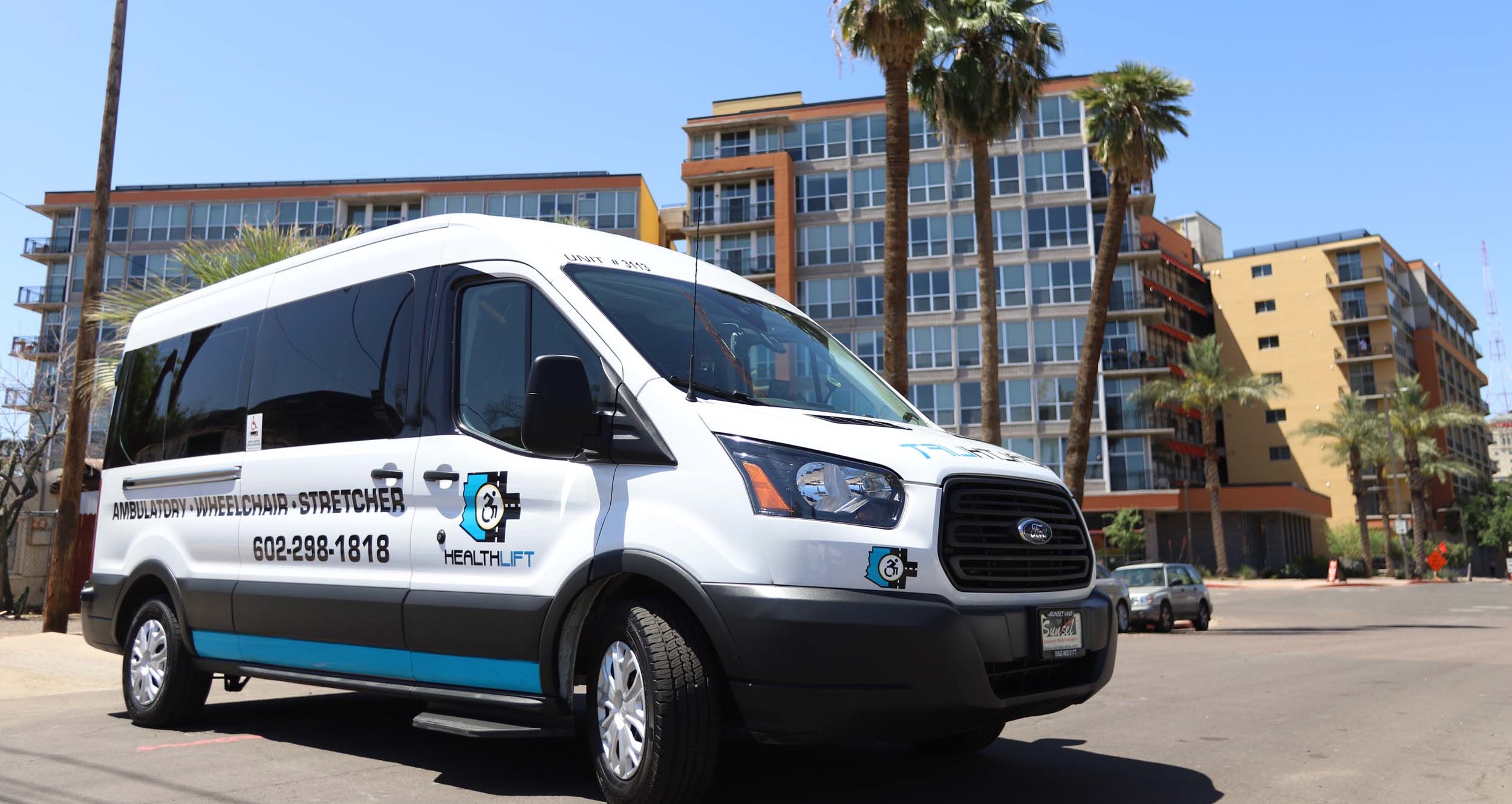 Sign Up for a HealthLift Account
Sign up with HealthLift of AZ to book and track rides online. Trust us with wheelchair transportation.
HealthLift's new A.D.A. compliant vehicles are equipped with bariatric and standard wheelchairs and stretchers.
Learn more about our services here: