Arranging Medical Transportation for Family Members
We can't always be there to drive our loved ones in wheelchairs to where they need to go, be it doctor's appointments or medical procedures, where traditional public transport options are less than practical. Accessible transportation is a valuable resource to everyone utilizing wheelchairs, especially those unable to drive themselves.
This is where reliable non-emergency medical transportation (NEMT) comes in. What benefits come from NEMT that better the lives of individuals using wheelchairs, and their families?
---
Gaining Independence
Wheelchair users can lessen their dependence on their family and loved ones whom they rely on for transportation. Individuals using wheelchairs or their family members can easily manage transportation online through Arizona's top accessible NEMT provider, HealthLift's online booking tool. Book multiples rides ahead of time, track location, and pay for rides online. Many family members arrange and pay for transportation for their loved ones ahead of time, knowing they'll make it to their destinations safely and on time. Now, patients in wheelchairs can have more freedom when it comes to getting around Arizona, or even out of state.
Qualified and Certified Drivers
With AZ's most trained and qualified drivers, wheelchair users aren't just provided safe and professional trips, but they are assured they are in highly capable hands. HealthLift's specially trained drivers are certified in CPR, Defensive Driving, Hospice Sensitivity, and PASS as well as drug-tested and background-checked for security.
Accessible Vehicles
Make sure to book NEMT that can accommodate passenger needs. HealthLift vehicles are equipped with heavy-duty lifts that can accommodate different types of wheelchairs. HealthLift's vehicles have the capacity to transport individuals using standard, bariatric, and electric wheelchairs and provide oxygen supply which must be administered by a caregiver.
Safety
Transportation for wheelchair users should be centered around overall safety. Safety not only includes safe drivers and dependable vehicles, it includes adaptations to the current pandemic, especially when it comes to transportation of individuals with underlying conditions. HealthLift operates at high standards in safety and has even taken extra measures in sanitation as part of our COVID-19 response. 
Booking With HealthLift
HealthLift NEMT of Arizona provides wheelchair users with well-equipped ADA-compliant vehicles paired with highly trained and certified drivers. For the most reliable NEMT in Arizona, get in touch with HealthLift.
You must have a HealthLift Account to book and track online. Sign up for your free HealthLift Account and book with us today.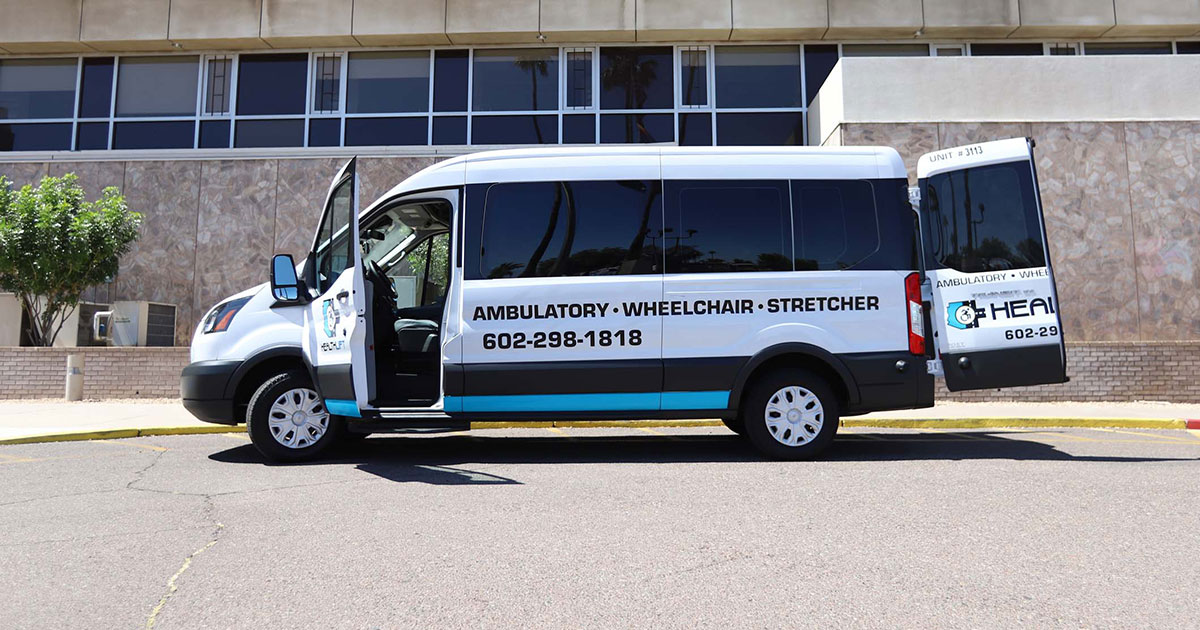 Sign Up for a HealthLift Account
Sign up with HealthLift of AZ to book and track rides online. Trust us with wheelchair transportation.
HealthLift's new A.D.A. compliant vehicles are equipped with bariatric and standard wheelchairs and stretchers.
Learn more about our services here: