Students Need Accessible Transportation
There are students in Arizona that have accessibility needs and will require wheelchair-friendly transportation to get to school, after-school programs, & medical appointments. Arizona parents, teachers, medical providers, and caregivers utilize private wheelchair accessible transportation services, like HealthLift NEMT of AZ, to manage transportation for students.
Why Choose HealthLift?
Students, their families, and school administrators trust HealthLift with wheelchair-accessible transportation to any destination they need to get to. Here are a few reasons why:
1. Reserve Multiple Rides
Whether the student needs daily, weekly, or monthly transportation arrangements- it's easy with HealthLift. Sign up for a Free HealthLift Account for easy online booking of multiple reservations all saved under your account. Simply sign in to edit and view your upcoming trips. You may also call (602) 298-1818 to book ride(s) in Phoenix or (520) 298-1818 to book ride(s) in Tucson.
Schedule your ride, and our certified/specially trained drivers are happy to assist you to your destination(s).
2. Track Ride Progress Online
Every Free HealthLift Account provides access to the ability to track progress of rides via showing location on map.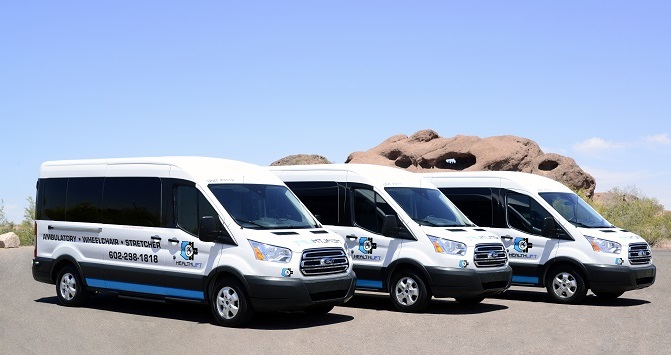 3. Top-of-the-Line Vehicles
HealthLift vehicles are equipped with lifts and restraints to secure standard and heavy duty wheelchairs and stretchers safely. They are regularly serviced and maintained at high standards.
4. Arizona's Best Drivers
HealthLift drivers are held to high standards and share the common goal of making the passengers experience the safest and most comfortable rides. They are required to pass multiple drug screenings: pre-employment, random, incident, accident. They are also specially trained, CPR Certified, Defensive Driving Certified, Hospice Sensitivity Certified, PASS Certified, Drug Tested and Background Checked.
HealthLift Serves Students and School Districts
HealthLift works with schools, parents, and students for reliable and accessible transportation whenever needed. We take pride in getting our students to school, physical/occupational/speech therapy programs, and all of the destinations they might need to get to.
Sign up for a HealthLift account now.