Gaining Independence While In a Wheelchair
How Do People in Wheelchairs Get Through Their Lives with Maximum Independence?
Being in a wheelchair does not necessarily mean that you're helpless and in need of constant assistance. This is especially true for wheelchair users who live alone and don't have anyone to help them. It's no surprise that there are plenty of wheelchair users out there who act independently, despite the challenges they may face on a daily basis.
How Do They Do It?
The fact is that they've learned to adapt to their current situation. Society has progressed in catering to the wheelchair population but is still far from perfect.
Using adaptive tools, resources, and planning ahead can make all the difference in accomplishing everyday tasks.
Adaptive Tools and Equipment for Independent Living

Aside from mobility equipment, wheelchair users have a variety of tools and accessories at their disposal to help with cooking, hygiene, and others. Depending on a person's individual condition, renovations of home doorways, showers or accessible storage may help one's quality of life in the long run.
There are also specialized devices to help in dressing, grooming, and others such as grip devices to extend reach and light switches that can easily be accessed. Even though these might seem like small tasks, more independence can be very fulfilling. Occupational therapists work with individuals to develop independence through exercising skills in activities of daily living.
Transportation Services

Wheelchair users may not be able to drive, are without an accessible vehicle, or depend on others for transportation. If you need reliable wheelchair transportation in Arizona, call Healthlift.
Healthlift NEMT of AZ offers newer ADA compliant vehicles, certified, background/drug tested drivers to take you anywhere you need to go. Even long distances, and out of state.  
Giving Wheelchair Patients Independence for Appointments

Wheelchair patients' health needs don't change, even as we endure the ongoing pandemic. As Arizona opens back up, elective procedures are being allowed. Those who need to get to their appointments can make use of non-emergency medical transportation to help them on their way to/from tests, treatments & procedures safely. 
Wheelchair Users During the COVID-19 Pandemic

Since many wheelchair users have underlying conditions, going to public environments may put them at risk when compared to others. Healthlift NEMT of Arizona serves Metro Phoenix & Tucson's wheelchair community. With the highest standards of sanitation, you can rest assured that you or your loved one's safety is our #1 priority.
HealthLift NEMT of AZ's Commitment

For wheelchair patients, HealthLift NEMT of AZ provides assistance to those who need to get to regular appointments. We have the highest standards in wheelchair transportation, ensuring that wheelchair patients are safely transported to their appointments in our handicapped accessible vehicles. As part of our commitment in the fight against COVID-19, we've taken extra measures to ensure safety for wheelchair patients.
Book and track rides online and sign up with HealthLift.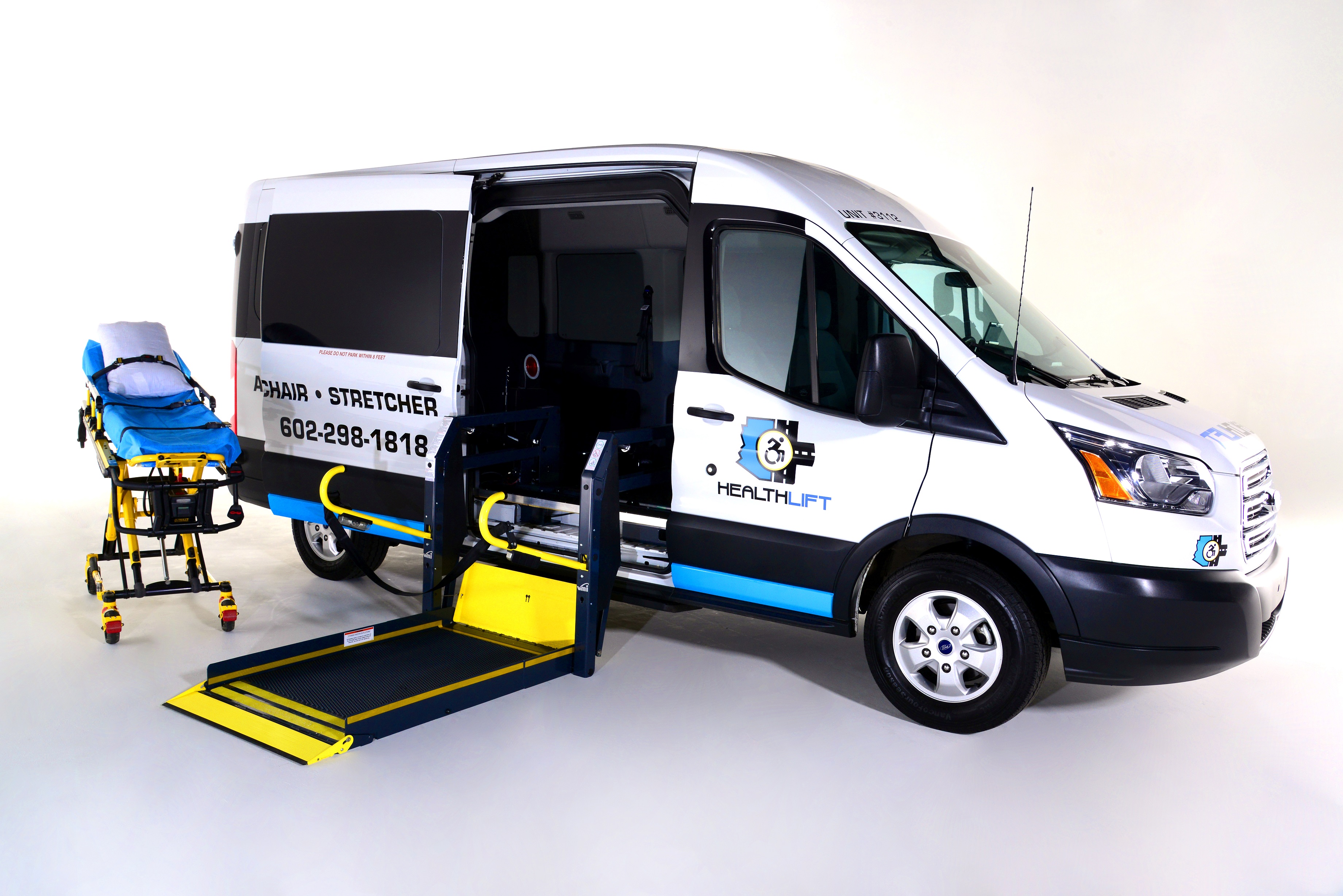 HealthLift Can Help With NEMT During COVID-19
If you need reliable non-emergency medical transportation in Arizona, choose HealthLift. Book and track rides online for your future appointments with your account.
Sign Up for a HealthLift Account
Sign up with HealthLift of AZ to book and track rides online. Trust us with wheelchair transportation.
HealthLift's new A.D.A. compliant vehicles are equipped with bariatric and standard wheelchairs and stretchers.
Learn more about our services here: