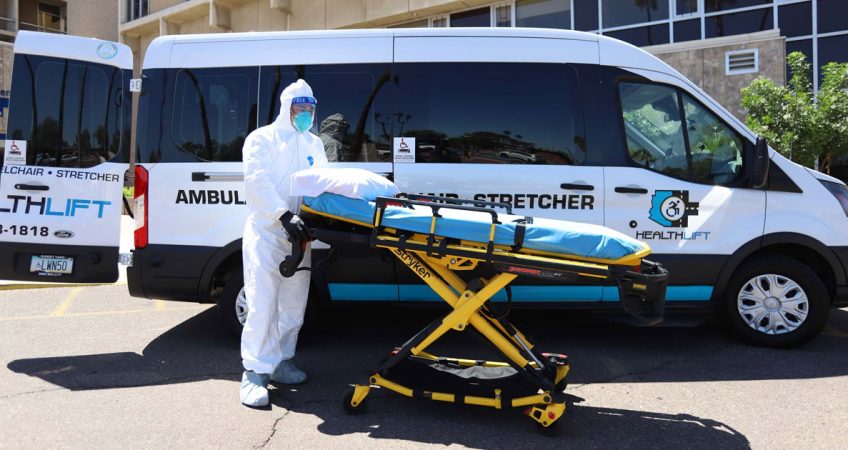 PPE, Face Shields and Fogging, How HealthLift of Arizona is Safely Transporting During COVID-19
As the COVID-19 pandemic continues and Arizona's economy reopens, medical transporters must take action to protect themselves and their passengers from spreading the disease. HealthLift Non-Emergency Medical Transportation of Arizona has taken additional safety and sanitation measures to protect drivers and passengers.
Arizona — Life in Arizona has been flipped upside down for many, as the COVID-19 pandemic continues locally and worldwide. As recovered patients become well enough to be discharged home and the economy starts to reopen, non-emergency medical transportation (NEMT) services have a major role to play in opening Arizona.
HealthLift NEMT of Arizona, has been proactive since the onset of COVID-19 spreading globally. Being a medical transportation company catering to wheelchair and stretcher patients, many of their customers have underlying conditions that put them at higher risk.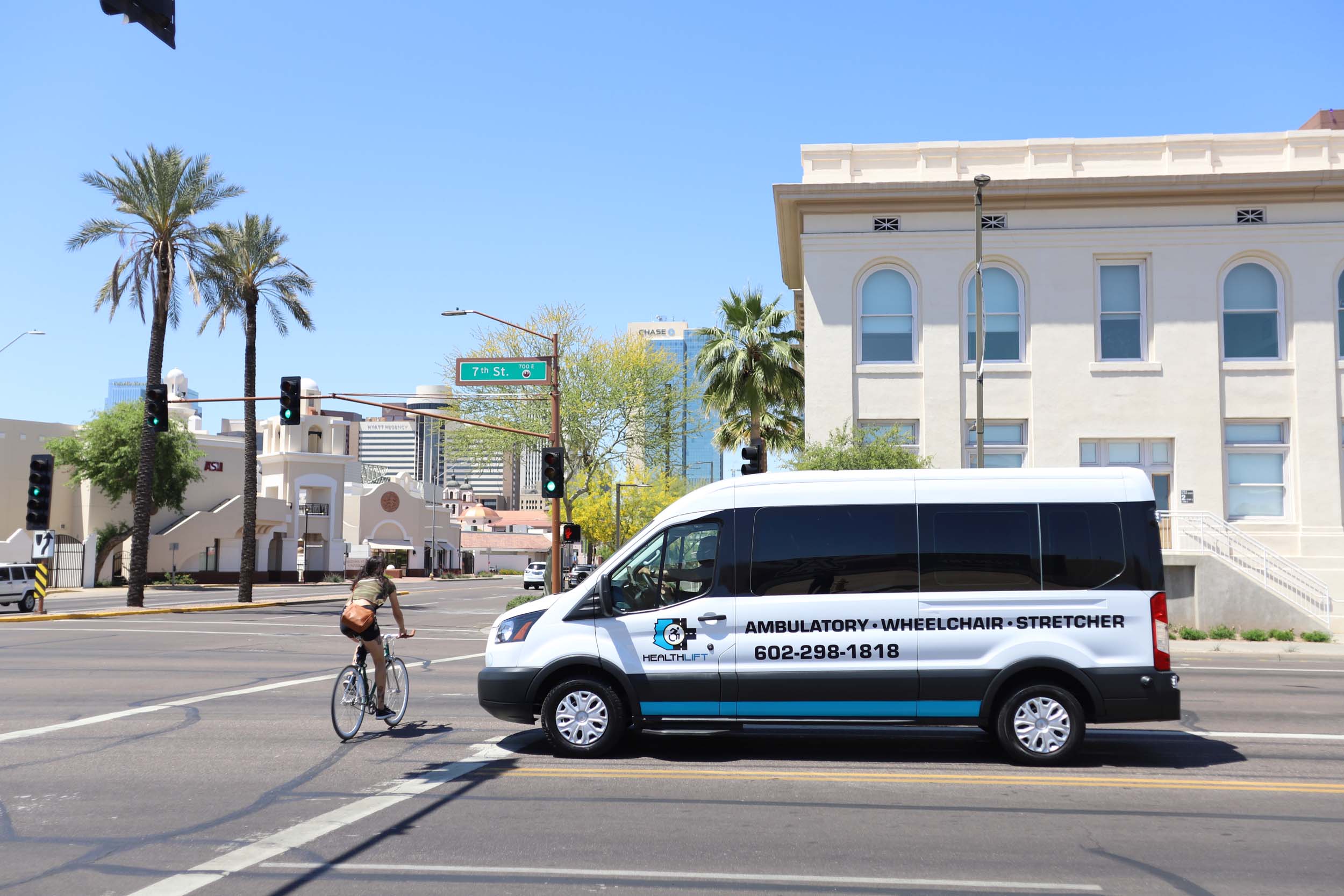 HealthLift drivers were quickly supplied with isopropyl alcohol solution, a highly effective anti-viral surface disinfectant, along with gloves and towels to disinfect surfaces after every trip. On top of that, drivers are required to wear provided reusable masks, as recommended by the Centers for Disease Control and Prevention when in situations where social distancing may not be an option.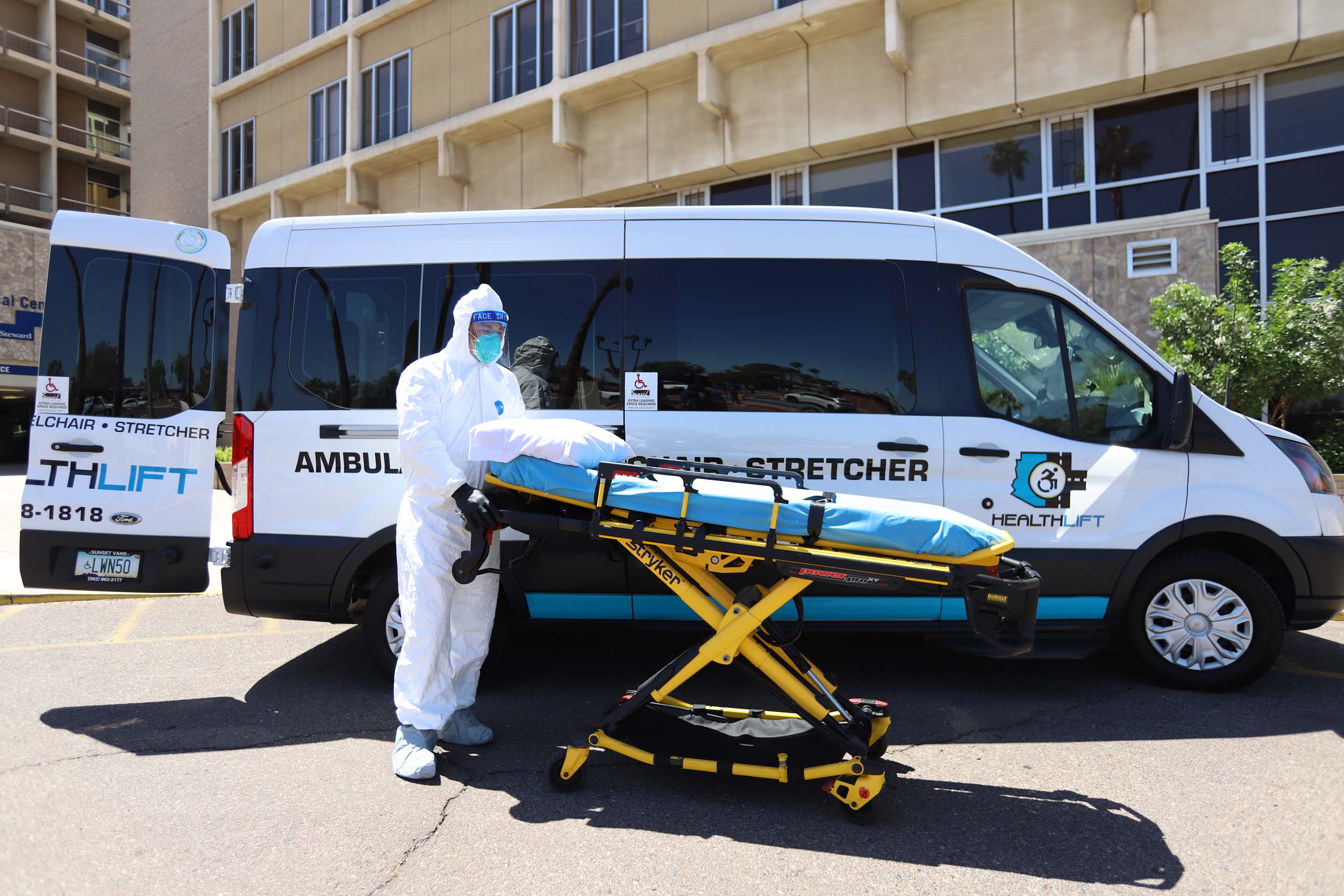 HealthLift also takes on the added responsibility that comes with accepting passengers that have tested positive for COVID-19 and those with pending results. Christine Jordan, Executive Director, shared this about how they have adapted, "with this pandemic we have gained new knowledge implementing additional policies and procedures that meet all the recommended CDC guidelines to continue to protect our patients, team members, caregivers, and loved ones alike."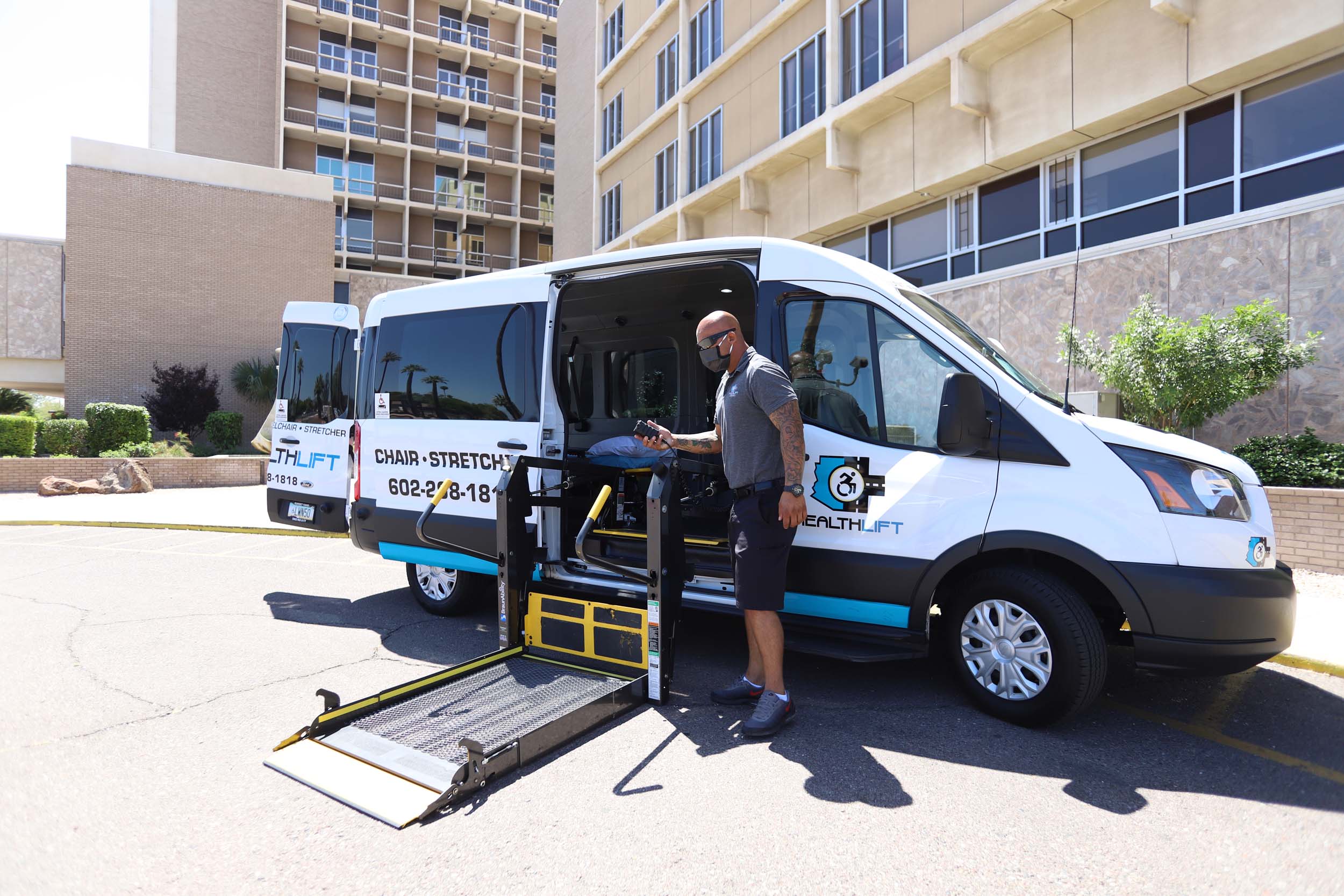 To protect passengers, drivers and future riders, a new process has been added when booking transportation with HealthLift. Regardless of booking online or via phone, customers go through a process where they are asked about any contact precautions, and/or if the patient has tested positive for COVID-19 or any other infectious medical conditions. This allows for proper preparation to schedule and dispatch a driver that has been trained specifically on how to safely transfer a COVID-19 positive patient.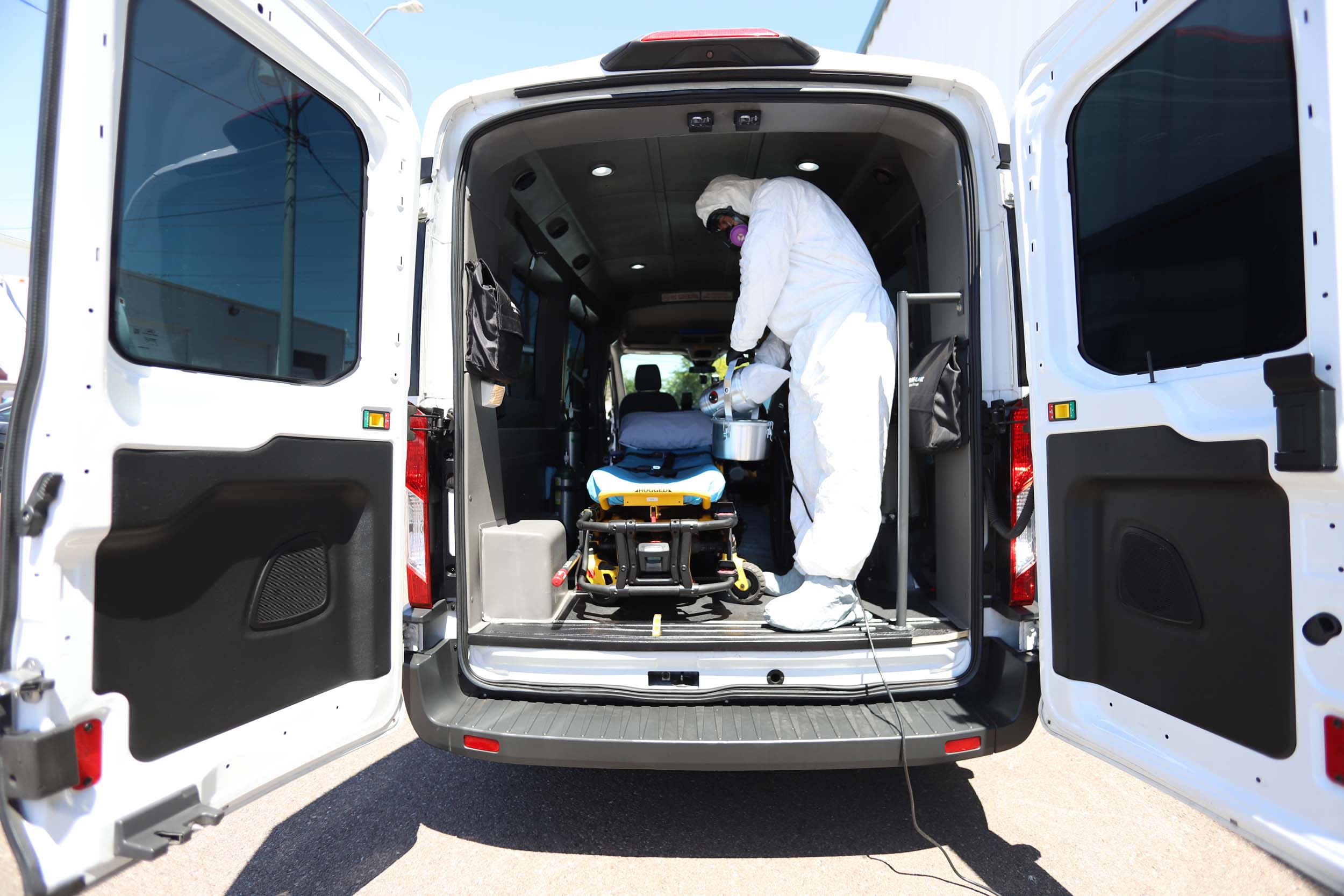 HealthLift drivers that are assigned to transport COVID-19 positive patients are supplied with complete personal protective equipment (PPE), including medical bouffant cap, face shield, medical full coverall, lab coats or CDC acceptable protection, N95 face mask, shoe covers and gloves.
Following COVID-19 trips and regularly scheduled HealthLift transportation, vehicles then undergo a decontamination process which includes a deep clean at their facilities in Phoenix or Tucson with fogging sanitization, UV light technologies, and more. "By taking these extra measures, we intend to maintain our five star level of service while ensuring everyone involved benefits from our extra care," Jordan added while discussing the effort involved in making these changes, "HealthLift will always measure our success one patient at a time and continue to go the extra mile to provide excellent service in the safest ways possible."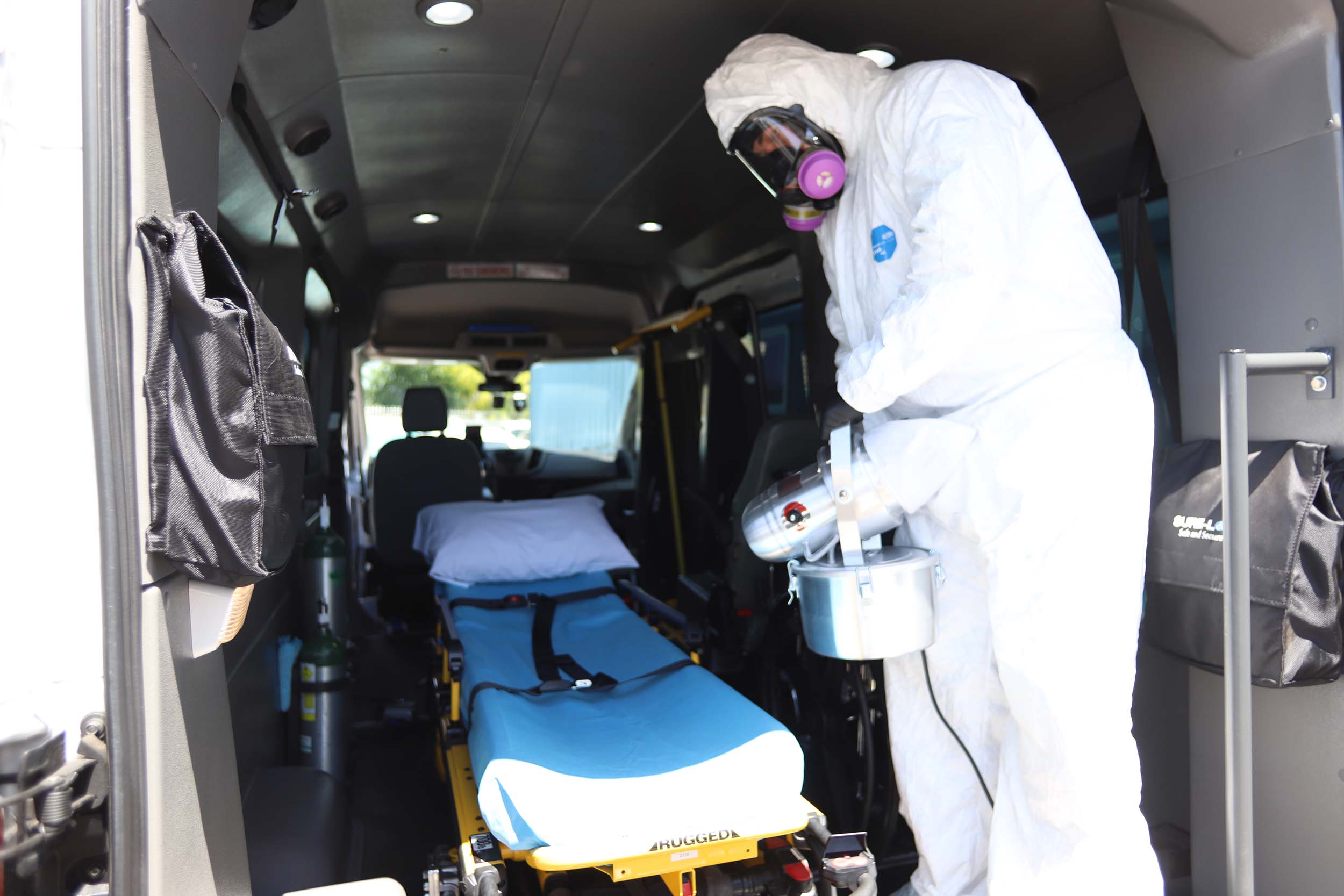 As patients in wheelchairs and stretchers need to make it to their essential medical treatments, tests, and procedures, HealthLift NEMT of Arizona is taking the proper steps to transport people in Metro Phoenix and Tucson. Their goal is to provide safe transportation for these vulnerable populations through the pandemic, while being adequately prepared for a possible second wave of COVID-19.
About HealthLift Non-Emergency Medical Transportation of Arizona
HealthLift NEMT of Arizona provides transportation services for customers utilizing (standard or bariatric) wheelchairs and stretchers with the focus on safety with newer-model, ADA compliant vehicles with heavy duty lifts. Drivers must complete drug screening: pre-employment, random, incident, accident. They are also specially trained, CPR certified, defensive driving certified, hospice sensitivity certified, PASS certified, and background checked. HealthLift transfers customers any distance, even out of state, and works with facilities all over Arizona. 

Booking accessible rides online is easy with a free HealthLift Account, where you have the ability to schedule same day trips, advance trips and recurring trips.
Sign Up for a HealthLift Account
Booking non-emergency transportation services has never been easier. In order to access online booking and tracking, you must have a HealthLift account. Signing up for a HealthLift account is easy. Call (602) 298-1818 or fill-out the sign up form below, and we'll get in touch to assist you with HealthLift's online booking features.
HealthLift's new A.D.A. compliant vehicles are equipped with bariatric and standard wheelchairs and stretchers.
Learn more about our services here: