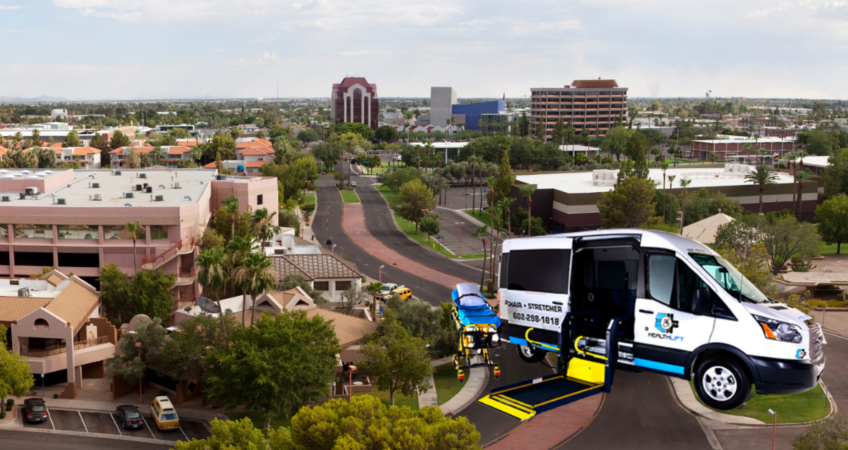 Residents of Mesa, Tempe, Gilbert, Chandler, Queen Creek, and Scottsdale who have accessibility needs may not have access to convenient transportation that caters to their wheelchair or stretcher.
What is Accessible Non-Emergency Medical Transportation (NEMT)
Non-Emergency Medical Transportation (NEMT) is defined as a transportation service for individuals that need transportation for medical appointments, procedures, testing, hospital discharge, or other non-emergency medical situations.
Accessible NEMT provides transportation that addresses the needs of those patients that use wheelchairs, or stretchers, in order to safely get them to those non-emergency medical appointments.
Is Accessible NEMT Only for Patients?
Accessible NEMT services are not just for patients. Any individual that needs a wheelchair to get around can use accessible NEMT services to get to any destination, whether for business, pleasure, or getting out of town — NEMT allows people using wheelchairs to get where they need to go freely.
The Best NEMT in the East Valley
HealthLift gets people that use wheelchairs to their destinations with comfort and safety in mind. Regularly maintained ADA-compliant vehicles are available 24/7, with wheelchairs and stretchers ready for passenger use as needed. 
HealthLift offers private accessible rides all around the Metro Phoenix & Tucson Areas as well as out-of-state transportation to those who have to travel long-distances, but are unable to fly.
Medical Establishments Trust HealthLift
AZ's top hospitals and medical offices work with HealthLift to manage rides for patients that need wheelchair-/stretcher-accessible transportation. Sign up for a HealthLift Account to get started.
Easily Book a Ride With HealthLift
Wherever you may be in Arizona's East Valley, HealthLift is ready to serve you. We help you get to your appointments and procedures on time so you won't ever miss them, allowing you to address your regular health needs. Ready for a night out? Book with HealthLift for a ride to Arizona's amazing restaurants or bars.
Want to know how much it will cost? Get a Free Quote >>
When you sign up for an account with us,
you can book and track multiple rides on our platform with ease!