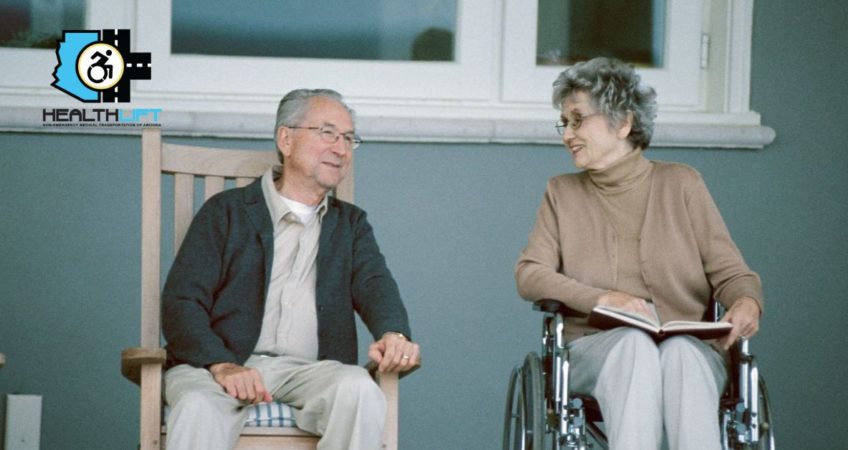 Caring for Mobility: ALFs and Disabled Resident Transport
Let's talk about something that's super important: wheelchair transportation services for folks in Assisted Living Facilities (ALFs).
You see, for disabled residents and those depending on ALFs, getting around can be a real challenge. They need accessible transportation for healthcare, social activities, and connecting with their community.
That's why many ALFs in Metro Phoenix and Tucson have teamed up with HealthLift, a company all about Non-Emergency Medical Transportation and accessibility. We make sure residents get where they need to be, with a special focus on wheelchair accessibility for seniors and the disabled community. This partnership isn't just about rides; it's about giving these residents a shot at a more independent and fulfilling life.
Meeting Unique Needs
Now, let's dive into the nitty-gritty. Disabled residents in ALFs face a number of mobility challenges, from making it to recurring medical appointments to enjoying social outings and family visits. That's where the magic of ALFs and HealthLift NEMT of AZ comes in.
We provide wheelchair transportation services tailored to residents' needs. We've got vehicles all decked out for wheelchairs and other Non-Emergency Medical Transportation (NEMT) services. We have a fantastic team of specially trained and certified drivers who know how to assist residents with mobility challenges. We're all about being reliable and punctual, making sure residents can get where they need to be.
Coordinated Accessibility
Arizona's 200+ assisted living facilities handle resident transportation uniquely, with larger centers providing dedicated vehicles, while smaller ones get creative to ensure safe, wheelchair-accessible transportation.
So, how does it all come together? HealthLift NEMT of AZ is the secret sauce here. We're in league with ALFs to make sure everything runs smoothly. We provide reliable transportation. This partnership takes the hassle out of arranging and managing rides, allowing residents to move freely in their communities.
Benefits and Real-Life Impact
HealthLift's wheelchair transportation services are a game-changer for residents in Assisted Living Facilities (ALFs). It isn't always about getting from point A to B — it's about living life to the fullest. These services mean more accessible healthcare, more social outings, and a tighter-knit community. In short, wheelchair transportation services help residents roll into a happier, more connected, and more independent life.
Enhancing ALF Life: NEMT & Wheelchair Transportation Services Matter
Wheelchair transportation services are the lifeline for disabled ALF residents, with HealthLift NEMT of AZ at the helm. They make life better, offering reliability and accessibility. When picking the right ALF for your loved ones, remember, transportation is more than a perk — it's the key to a vibrant, connected life. So, inquire about the ride, prioritize accessibility, and consider pros like HealthLift. Your choice fuels a life filled with quality moments!