#1 Accessible Medical Transport Tucson, Arizona
At HealthLift, we pride ourselves on providing transportation services for individuals with healthcare needs. Our mission is to ensure that people have access to reliable and safe transportation to medical appointments, thereby improving their overall healthcare experience.
Check out some of our key features at HealthLift!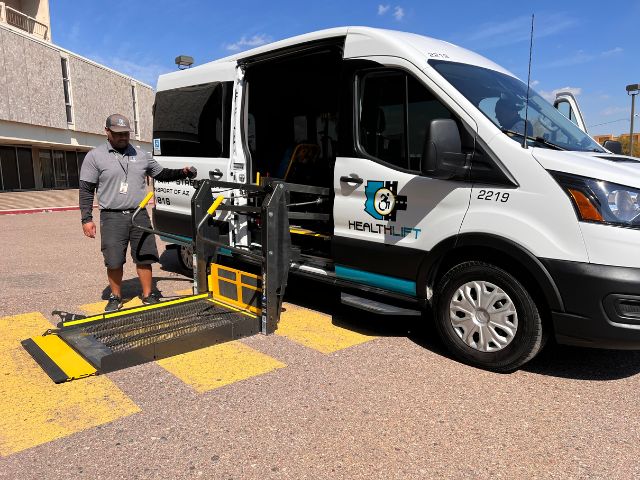 Trained Drivers and Caregivers
HealthLift has been helping people with accessibility needs for nearly a decade. When it comes to Medical Transport Tucson, our experienced management team brings over 75 years of experience. We employ trained drivers experienced in providing thorough assistance to individuals with healthcare needs. We're knowledgeable about patient care and safety protocols, ensuring our passengers a comfortable and secure journey.
Appointment Scheduling and Reminders
HealthLift assists clients by coordinating their medical appointments and sending timely reminders. This service helps patients stay organized and ensures that they arrive at their appointments on time.
Safe & Reliable Medical Transport Tucson Services
We focus on delivering reliable, efficient, and compassionate transportation services for individuals seeking medical care. By addressing the transportation barriers many people face, we aim to enhance access to healthcare services and improve our clients' health outcomes.
How to Book Non-Emergency Medical Transport Tucson, Arizona
Are you ready to experience the convenience and peace of mind that HealthLift NEMT has to offer? Contact us today at (520) 298-1818 for Tucson residents or at (602) 298-1818 if you're in Phoenix.
You can also visit our website at HealthLiftAZ.com to learn more about our services and sign up to easily schedule transportation for your loved ones. Take the first step towards seamless healthcare access and elevate the quality of care for your family.
Get a FREE quote now!