Ambulance Service Vs. Non-How Access to Transportation Can Improve Quality of Life for Seniors
Gaining independence by utilizing available resources
It's important for seniors to have access to reliable and safe transportation. How exactly does access to transportation benefit the quality of life of our senior community?
Reducing Limitations 
Being without transportation can have a negative impact on the lives we lead. Seniors that are unable to drive themselves are more likely to miss vital appointments, procedures, or testing. 
Working with a safe, sanitized, reliable, and accessible transportation company will ensure that appointments are never missed and health is being maintained optimally.
A Sense of Freedom & Independence
When seniors are unable to drive themselves or their family and friends are unavailable to get them to their desired destinations, their quality of life can be negatively affected. This is especially true for individuals that use wheelchairs. It may be difficult to get supplies, make it to medical testing, and more. Working with a transportation company like HealthLift to get around town can make all the difference.
Giving Family and Caregivers a Break
Family members and caregivers are not always required when wheelchair transportation is needed. The current health crisis may also put them at risk when taking patients to their appointments, procedures, and more. Having another option like Non-Emergency Medical Transportation (NEMT) will provide a great resource for those instances when help is unavailable.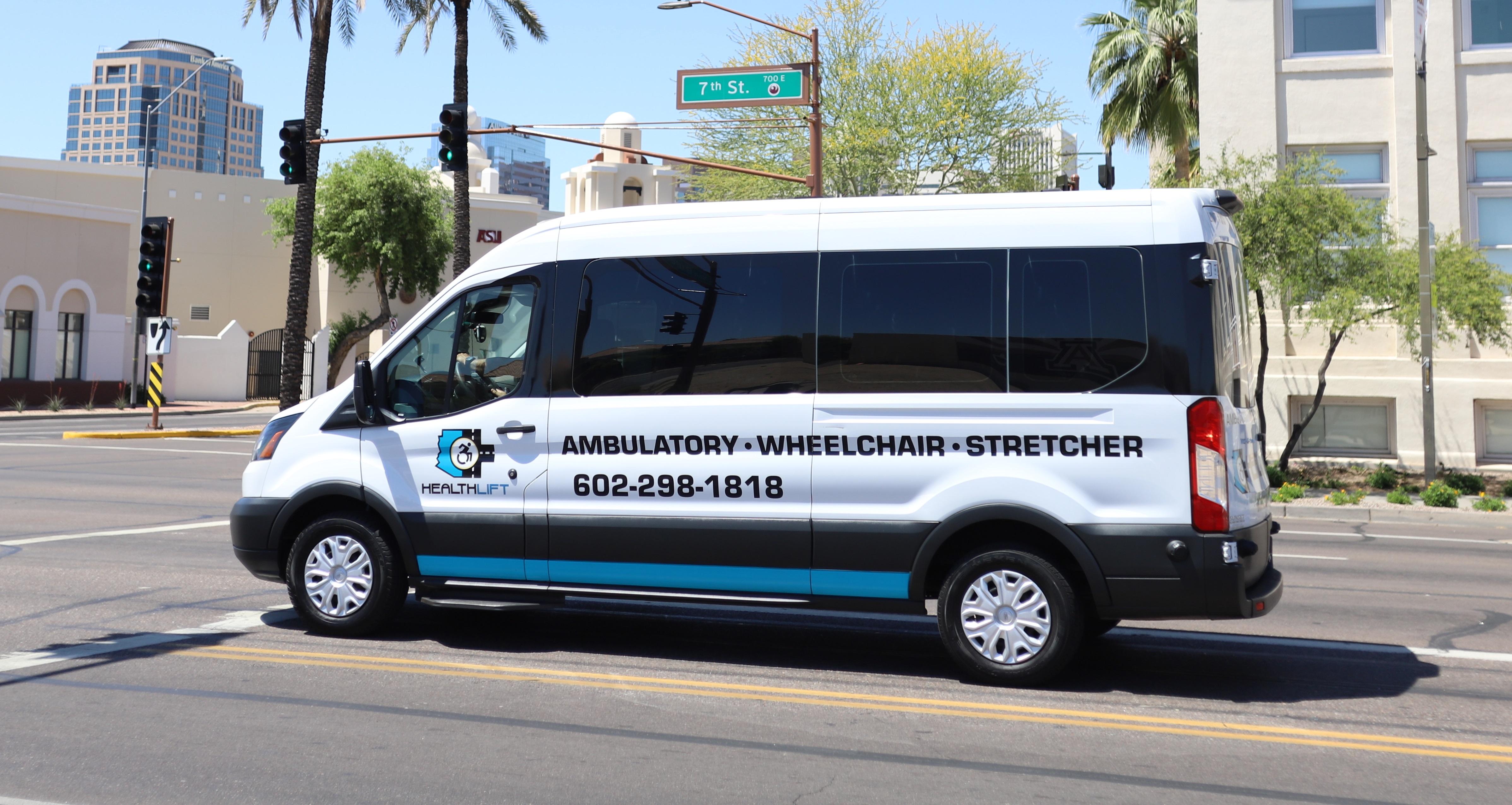 HealthLift NEMT of AZ Helps Seniors With Transportation
HealthLift makes it easier for seniors to book accessible rides. Simply call us when you need us or book & track rides online with a Free HealthLift Account.
We provide quality services and are trusted by hospitals, medical, and rehabilitation facilities in Phoenix and Tucson. Our commitment to providing safe and smooth rides as Arizona's safest NEMT stays with our customers.
Sign Up for a HealthLift Account
Sign up with HealthLift of AZ to book and track rides online. Trust us with wheelchair transportation.
HealthLift's new A.D.A. compliant vehicles are equipped with bariatric and standard wheelchairs and stretchers.
Learn more about our services here: