It is comforting to know that the aging population in Arizona has increased over the past few years. It only proves that there is a better quality of life for seniors all over the state and that more and more Arizonans are enjoying longer lifespans. 
We have always taken pride in our deeper family bonds and our high regard for our older adults. Which is why State laws have been tailored to better cater to the needs of our growing senior community. 
Looking into the Arizona Senior Community
Based on the recent records on Arizona State Plan on Aging, the state alone has nearly 1.5 million Arizonans over the age of 60 years old. About 22% of Arizona's total population consists of seniors aged 65 and older. 
With this in mind, it is safe to say that our state is one of the most senior-friendly states in America with our improved healthcare system, affordable living standards, warm weather, and plenty of national parks. Because of this, Homebay.com has even considered Arizona as one of the top U.S. retirement destinations next to Florida.
Providing for the Needs of Our Older Adult Population
According to the Disability & Health Data System or the DHDS, 2 in 5 adults aged 65 years and older have a disability. And 13.7% of this functional disability type are mobility problems such as serious difficulty in walking or climbing stairs, and the need to use a mobility device such as a wheelchair and the like.
In addressing the need for every state to provide services associated with accessibility, HealthLift provides for the most dependable wheelchair-accessible rides that caters to the senior community around Phoenix and Tucson.
The Need for Accessible Transportation
Majority of the senior community around the State have recurring transportation needs. These include regular visits to doctors, getting therapy or treatments for healthcare, weekly trips to grocery stores, and even leisure activities and visiting loved ones. 
Because of this, Non-Emergency Medical Transportation or NEMT has become the top choice for the older adults in order for them to easily get around in their wheelchairs and mobility devices. The good thing about NEMT is that it caters to their basic transportation needs and more with door-through-door service and well-regulated vehicles.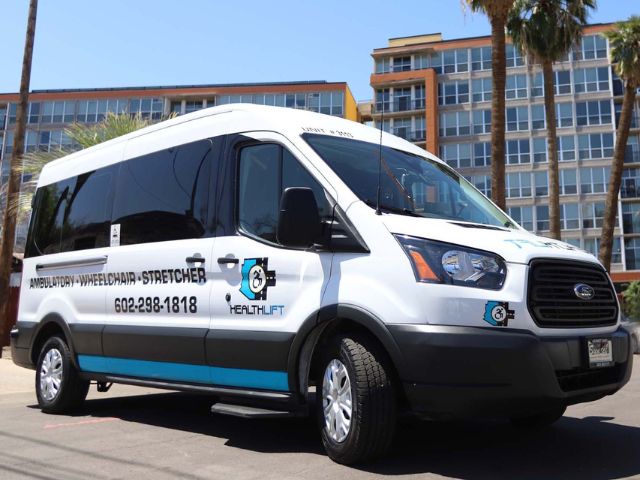 HealthLift also caters to seniors who are using bariatric wheelchairs, and even stretchers for those with serious mobility issues. Get a FREE quote to get started or give us a call now! Our lines are open 24/7 to serve you better with your transportation needs.
How to Book Wheelchair- & Stretcher-Friendly Rides Online 24/7