The Best Night Out Spots for Wheelchair Users
There are many great places for a night out in Arizona. And the good news is that most of these spots are wheelchair-friendly, making it easy for everyone to join in the fun!
We have listed down some of the best night-out ideas and places to check out for the wheelchair community in Arizona.
9800 E Indian Bend Rd, Scottsdale, AZ 85256
Sunday–Thursday: 5 PM–10 PM
Friday–Saturday: 5 PM–11 PM
If you're in Phoenix and looking for a truly accessible restaurant with magnificent views, Orange Sky is the place to be. From valet parking to wide clearance doorways, restrooms, and between tables, it's one of the most wheelchair-friendly spots in all of Phoenix.
To top it off, they have a sommelier to guide you through their extensive selection of wines. Enjoy your rib-eye steak or a glass of wine on the outdoor patio while taking in the stunning sunset scape.
2. Authentic Japanese Rolls at Kabuki
6770 N Sunrise Blvd Glendale, AZ 85305
Monday–Thursday: 11 AM–9:30 PM
Friday–Saturday : 11 AM–11 PM
Sunday :  11 AM–10 PM
At Kabuki, their menu features traditional Japanese dishes, as well as creative and innovative takes on them. They offer an incredible variety of sushi, sashimi, and specialty rolls as well as a selection of classic cocktails, wine, beer, and Japanese-inspired drinks.
Located at the Westgate complex near Glendale stadium, this Japanese restaurant has plenty of wheelchair-accessible seating — including a sushi counter!
5954 E Speedway Blvd Tucson, AZ 85712
Monday & Tuesday: Closed
Wednesday & Thursday: 2 PM–11 PM
Friday: 2 PM–2 AM
Saturday: 12 PM–2 AM
Sunday: 12 PM–11 PM
This beloved local dive bar is one of the best live music venues in Tucson with big-screen viewing for games on the weekends.
It's the perfect place to grab inexpensive quality concoctions, and on certain nights, they have a food truck outside with all the craving busters you need. The great vibe and accessibility make this place a weekend hangout favorite for everyone!
Tip: Don't miss the long-time Tucson favorite Neon Prophet reggae band on Saturdays.
4385 E Indian School Rd, Phoenix, AZ 85018
Sunday to Thursday 11 AM–9 PM
Friday to Saturday 11 AM–9:30 PM
For a pizza night out in Arizona, check out Dough Bird's crave-worthy menu. They offer a unique and perfect duo of wood-fired pizza and rotisserie. Try their margherita with any of the eight house-made sauces. You can also get it gluten-free if you like.
On top of the great menu options, the restaurant is also wheelchair friendly with accessible van parking and plenty of room to turn a 360 — a definite plus!
8280 West Union Hills Road Glendale, AZ 85308
BAR: 
Mon–Thur 3 PM–10 PM  |  Fri–Sat 3 PM–11 PM 
Sun 3 PM–9 PM
DINING ROOM: 
Mon–Thur 4 PM–10 PM  |  Fri–Sat 4 PM–11 PM 
Sun 4 PM–9 PM
Arrowhead isn't your run-of-the-mill steakhouse. The USDA Prime steaks are cooked to perfection and served in a sizzling hot iron skillet. Their main menu also includes great seafood options and an exquisite wine selection.
On top of being a great steakhouse, you can dine with ease knowing that they have plenty of spacious seating and 5-star wheelchair-accessible restrooms.
With our listings, going out and having a great time should be a given. That said, if you're heading out with someone who uses a wheelchair or just need a safe and reliable ride, pre-arranging your trip is key for a smooth
night out in Arizona
 — especially when drinking's involved!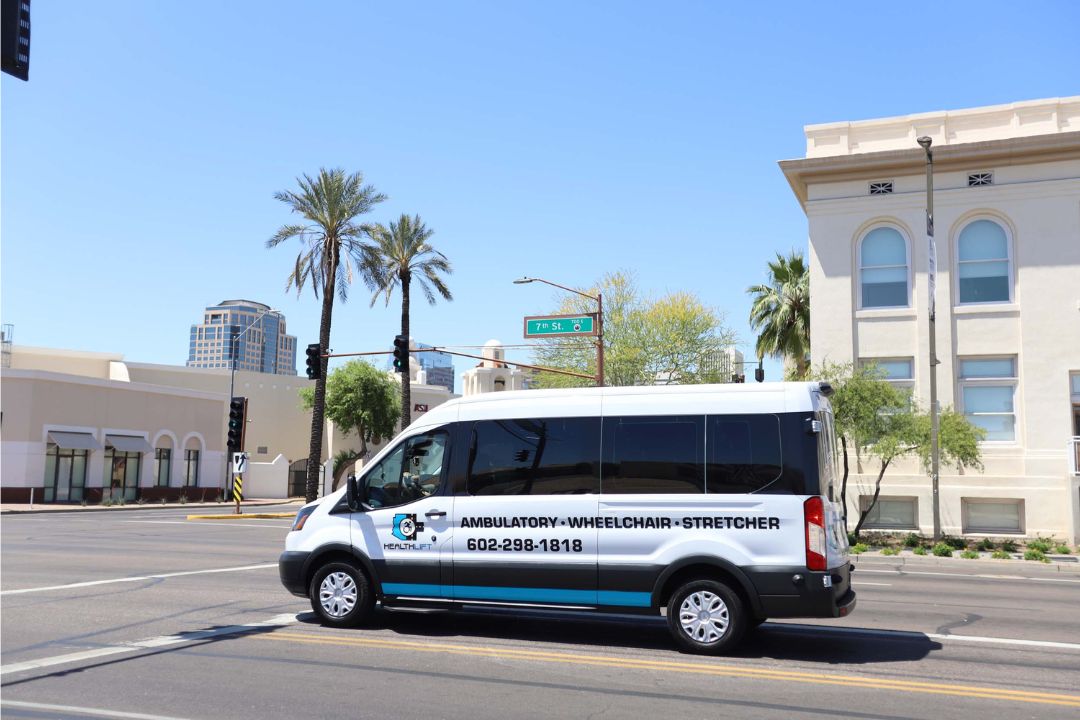 Enjoy Your Evening Out With HealthLift
Regardless of your accessibility needs, whether you're a senior or someone with disabilities, let HealthLift take you to the best spots for a night out in Arizona. Whether you need a standard or bariatric wheelchair-accessible ride, HealthLift is here to get you to your destination as Arizona's most reliable accessible transport provider!