Don't miss out on the fun and excitement with these wheelchair-accessible events in Phoenix!
Phoenix, Arizona is a vibrant and inclusive city that prides itself on offering a wide range of events and activities that are accessible to everyone, including those with mobility challenges.
With its commitment to inclusivity and accessibility, Phoenix has become a destination where individuals using wheelchairs can enjoy a plethora of upcoming events. From concerts and festivals to sporting events and cultural exhibitions, the city offers a rich and diverse calendar that ensures everyone can participate and have a fantastic time.
In this blog, we'll highlight some of the upcoming wheelchair-accessible events in Phoenix, allowing individuals of all abilities to fully engage and embrace the city's vibrant spirit. So get ready to mark your calendars and join in the fun as we explore everything Phoenix has to offer.
Immersive Indigenous Storytelling featuring the 360˚ Sky-Dome
The Heard Museum presents a new, permanent exhibition entitled Substance of Stars, which is on view now. The project is the culmination of a three-year collaboration with four Indigenous communities, thanks to a grant from Lilly Endowment Inc., which fosters the study of world religions. 
The exhibition examines the collection of the Heard Museum from Indigenous perspectives, across a wide variety of media and time periods. It incorporates Indigenous languages, sky knowledge, and spiritual values, and includes elements of the origin stories that form Native identities.
The museum is accessible to wheelchair users and visitors who need to avoid stairs. They have a limited number of manual wheelchairs for visitors to borrow on a first-come, first-serve basis.
THE SCIENCE OF GUINNESS WORLD RECORDS
Be amazed. Be amazing. Come to The Arizona Science Center's newest exhibition, The Science of Guinness World Records. Discover the world's great record holders, and what it took to cement their names in the history books — and potentially become a part of history yourself!
Being one of the most inclusive events in Phoenix, the Arizona Science Center has wheelchairs available for loan. Admission is free for working Personal Care Attendants when they are visiting with a client.
Many exhibits are hands-on or have hands-on components. Some also have open or closed captioning. Sign language interpreters can be arranged with one week's notice. For more info, call 602 716 2000.
Sensory Backpacks are available for guests to borrow at no cost on a first-come, first-served basis. Included in each kit are items to fidget, stress ball, and noise-minimizing headphones. All you need is a photo ID!
WATCH A DIAMONDBACK BASEBALL GAME
Supporting the Arizona Diamondbacks baseball team by attending a game this summer is an experience filled with excitement, camaraderie, and unforgettable memories. Gather your friends or family, and head to the ballpark to witness the crack of the bat, the cheers of the crowd, and the joy of a home run.
Whether you're a die-hard fan or new to the sport, the atmosphere of a baseball game is infectious. Supporting the Diamondbacks not only brings you closer to the sport you love, but it also supports your local team and fosters a sense of community.
So grab your jerseys, don your team colors, and prepare for a summer of unforgettable moments at the ballpark with friends and family. Let's play ball!
Chase Field proudly attracts millions of people each year, contributing significantly to the economic revitalization of the downtown Phoenix area.
This success is largely due to their commitment to excellence in every aspect of operations, including providing an enjoyable experience to guests with disabilities with amenities such as accessible seating/companion seating, inclusive/family restrooms, ramps, and more.
Get to Events in Phoenix Without Limitations
Thanks to the dedication of HealthLift NEMT of Arizona, individuals using wheelchairs in Phoenix, Arizona can truly experience the city's vibrant events without limitations. With the most trusted wheelchair-accessible rides, HealthLift NEMT ensures that everyone has the opportunity to get out and enjoy the diverse array of events that Phoenix has to offer.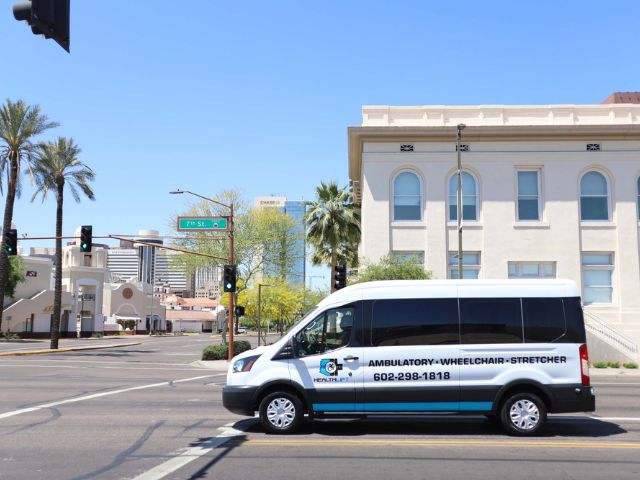 From music festivals and art exhibitions to sports games and community gatherings, the city comes alive with inclusivity and accessibility.
So, don't let transportation barriers hold you or your friends and family back. Reach out to HealthLift NEMT for exceptional services, and embrace the freedom to fully participate in the exciting events that make Phoenix such a remarkable city.