Whether you are visiting your loved ones for the holidays or you're simply looking to spend some quality time outdoors, securing accessible transportation should always be a priority. Read on for the most useful travel tips for wheelchair users this holiday season.
The holidays are just around the corner. It's almost time for family gatherings and seasonal trips. There are also a lot of festivals and other exciting events to look forward to before the year ends. 
It may be a common challenge for wheelchair users to secure safe and reliable accessible transportation for these kinds of trips. But with advance planning and some nifty travel tips for wheelchair users this holiday season, you can easily get around and enjoy your traveling experience.
1. Do your research before planning your itinerary
You can't expect all your destinations to be wheelchair-accessible. To help you with this problem, HandicapMD suggests wheelchair users always gather prior information about building accessibility when planning trips. For instance, you might want to make sure that the places you are visiting have convenient ramps.
Checking the wheelchair accessibility of the city streets and types of road surfaces can also put you at an advantage. Not all mobility devices can go well with cobblestones, sand, or loamy soil. You must also watch out for dangerous potholes and limited availability of curb ramps, most especially if you are planning on traveling alone.
2. Consult your doctor before traveling
Your holiday travel may take a while. For those who have health concerns that need to be checked every now and then, it would be wise to consult your doctor before traveling. That way, you can get all the necessary vaccinations, health checks, and prescriptions that are good to last for your entire trip. 
Pre-trip medical check-ups are essential for seniors since it helps secure safe travels along the way. Most doctors will also recommend their patients get travel insurance and may provide referrals for doctors and other healthcare professionals around your area of destination.
3. Prepare medications and other basic needs for the whole trip
Now that you have your doctor's recommendation to travel, the next step would be to ensure that you have all the necessities covered for the whole trip. These include medications and other basic needs that you may not easily find as you travel. Check out these medication management tips for seniors while traveling.
These travel tips for wheelchair users this holiday season also ensures your safety and security to help you make the most of your trip. 
4. Book your hotel accommodation at the earliest time possible
Planning on visiting Arizona over the holidays? The best time to visit Phoenix is around November through April. The high season for tourists to flock to Arizona is between October to mid-May. 
This is why you should always consider booking hotel accommodation at the earliest time. While you're at it, you can also check for the best hotels, restaurants, and go-to destinations with accessible facilities to make it easier for you to manage.
5. Book your accessible ride in advance
If you are looking for the safest and most convenient way to travel around with your wheelchair or any other mobility device, you should consider booking an NEMT ride in advance. This is the most important of all travel tips for wheelchair users this holiday season since Non-Emergency Medical Transportation services are popular around Arizona for providing an excellent travel experience for people with mobility challenges and special transportation needs.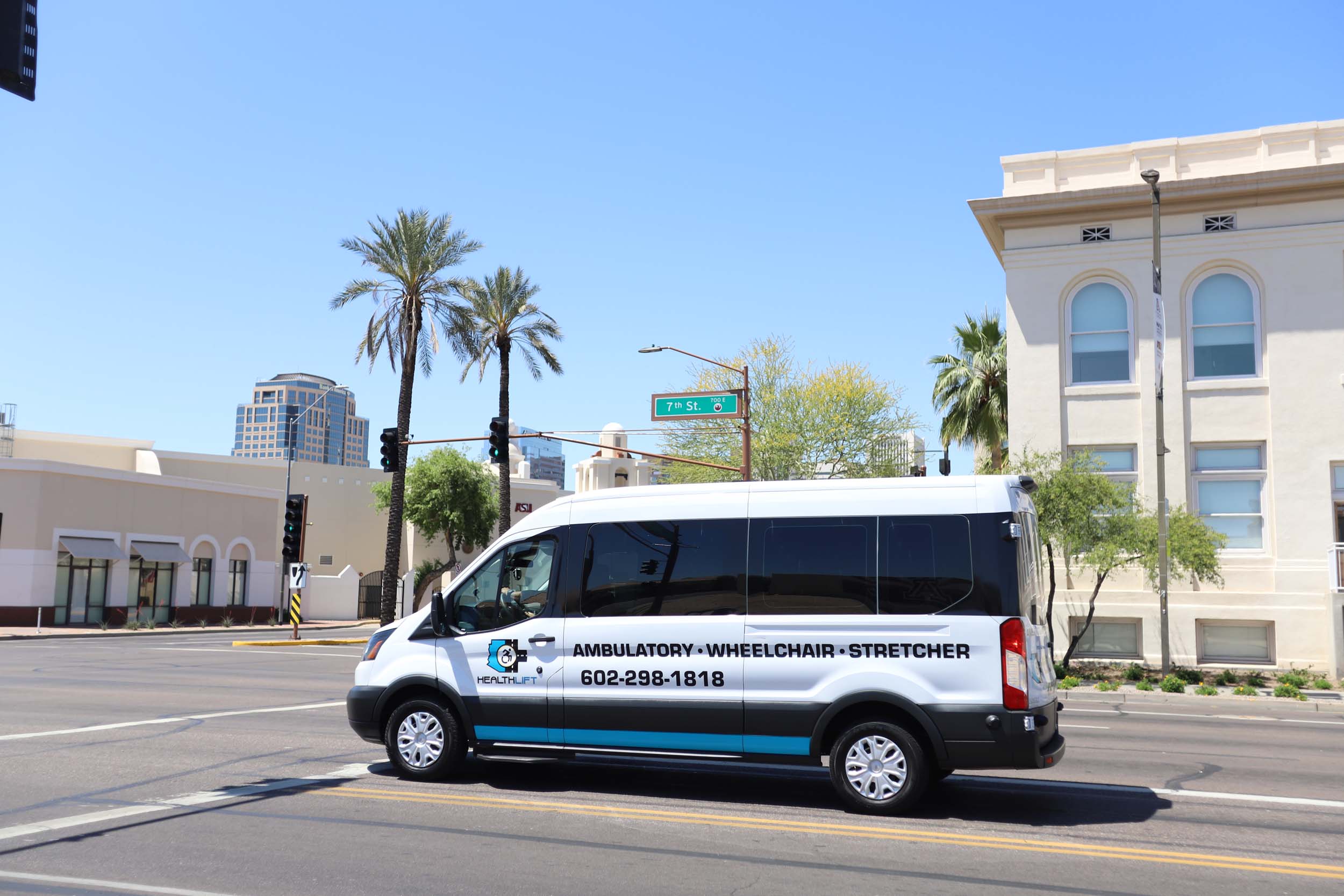 How to Book Wheelchair- & Stretcher-Friendly Rides Online 24/7