Out-of-State Travel for Wheelchair Users
Some medical conditions can render passengers unable for air travel, and this can severely affect their quality of life, especially when they need periodic medical checkups that require long-distance travel.
HealthLift NEMT of Arizona has been a leader in long distance travel for non-emergency medical transportation (NEMT). Our services focus on the unique needs of seniors and people with disabilities. We continually strive to be a reliable partner not only for patients but also for healthcare providers in the community we serve.
Specialized NEMT for Wheelchair Users During Long Distance Transportation
At HealthLift, we understand that physical or mental conditions can pose different challenges for passengers and their loved ones. That's why we have tailored our transportation services for people with specific needs in ways that center around safety, comfort, and efficiency. 
HealthLift only employs staff who are thoroughly trained and background checked and have a passion for helping others. This is to ensure that passengers feel safe and comfortable all throughout their rides with us.
Arizona's Most Reliable Accessible Ride
HealthLift provides ADA-compliant wheelchair- and stretcher-friendly transportation. Here are some of the features that are included in our NEMT services:
Can travel any distance, even out-of-state

Caters to passengers who cannot fly

Newer model ADA-compliant vehicles

Accommodates standard,

bariatric

, and electric wheelchairs, and stretchers

Oxygen supplied in vehicles (administered by caregivers)

Wheelchairs and stretchers available for use (if needed)
On top of that, our drivers at HealthLift have undergone extensive training and certifications:
Specially trained

CPR certified

Defensive driving certified

Hospice sensitivity certified

PASS certified

Drug tested

Background checked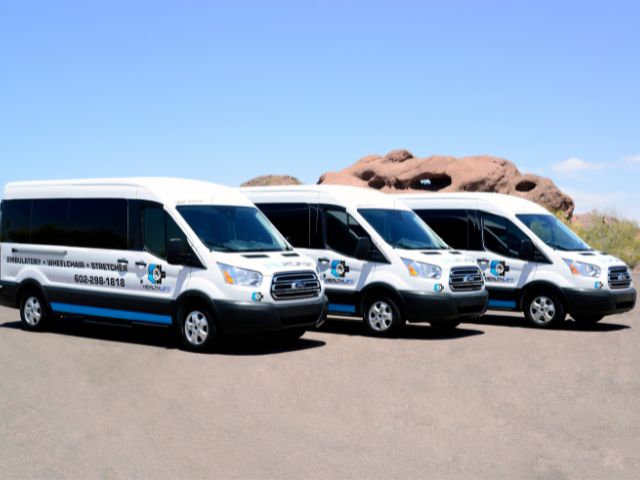 Book a Long Distance Ride with HealthLift NEMT of Arizona
We understand that some patients are unable to fly because of their medical conditions. Our accessible, long-distance transportation will take passengers anywhere in Arizona, even outside of the state, to help them get to their important medical appointments, meetings, or any destination. And with our specially trained and certified drivers, you're sure to be in good hands.
When you sign up for an account with us,
you can book and track rides on our platform with ease!