Wheelchair & Stretcher Accessible Transportation
Thank you for your interest in working with HealthLift. Our website in under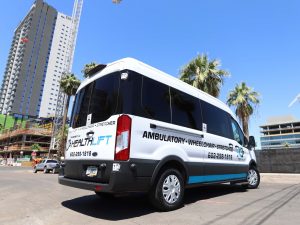 maintenance but you can still book & track rides and sign up for a HealthLift Account. 
Online Booking & Tracking
HealthLift NEMT of Arizona makes it easy to book your handicap accessible ride. Our customers take advantage of our easy online booking tool. To sign up, please call (602) 298-1818 or submit your information and our representatives will provide you with instructions on how to use HealthLift's Online Booking.
You Must Have a HealthLift Account to Book & Track Rides Online. Sign Up >>
Please Note: If you are booking transportation that is due within 90 minutes, please call 602-298-1818 to ensure availability.
Already have an account? Book & Track Now >>